Kiva Lending Team: HerbWorld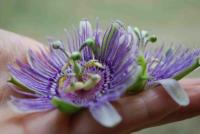 We loan because...
Medicinal Herbs grow worldwide and provide health and healing for everyone who is open to herbalism. Herbal plant medicine is 1000s of years old and every culture embraces some form of herbal healing. Herbs are fodder for farm animals, natural pest control, healers in soil remediation, over 25% of pharmaceuticals are made from herbs.
About us
Our Team lends to those who grow medicinal herbs or natural products and practice programs such as seed Saving, plant propagation, alternative energy implementations, water catchment processes, forest grown agriculture that spares the forest, etc.
Location: ASHEVILLE NC
Team Activity
Peru

Peru

Virginia Natividad

received a loan from

Jeannie

to provide maintenance to her olive crop in order to have a more productive harvest.

El Salvador

Anna Betis

received a loan from

Jeannie

her to pay for hand labor to give maintenance to her parcel of coffee trees.