Kiva Lending Team: AqroInvest Dostları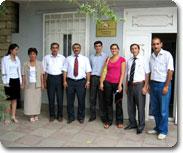 We loan because...
We believe in the capacity of microfinance to empower Azerbaijanis to lift themselves out of poverty.
About us
AqroInvest Credit Union has been a Kiva partner since May 2007 and operates across 8 branches in Azerbaijan, mostly in the rural regions of the country. The credit union provides viable financial services to its members, as well as plays an important role in financial sustainability and economic well being of Azerbaijani people.
Location: Baku, Azerbaijan Team website
Team Activity
Philippines

Ma. Corazon

received a loan from

joan

to buy fertilizers and other farm supplies and pay for the laborers' salaries.

Colombia

Kelly Patricia

received a loan from 1 team members to buy more drugs to stock up her business.

Honduras

Issys Sarahi

received a loan from 1 team members issys to buy underwear, a variety of sandals, and assorted stainless steel rings, bracelets, and necklaces, and also to do repairs on the space where her business is located.