Kiva Lending Team: AqroInvest Dostları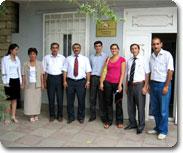 We loan because...
We believe in the capacity of microfinance to empower Azerbaijanis to lift themselves out of poverty.
About us
AqroInvest Credit Union has been a Kiva partner since May 2007 and operates across 8 branches in Azerbaijan, mostly in the rural regions of the country. The credit union provides viable financial services to its members, as well as plays an important role in financial sustainability and economic well being of Azerbaijani people.
Location: Baku, Azerbaijan Team website
Team Activity
This team has not made any loans in the past 90 days that are currently raising funds. Check back soon or make a loan!