Three Steps to Impact
Set your commitment once, Kiva will make sure every dollar is lent to COVID-19 impacted individuals and businesses.
Choose

Choose a monthly amount to go toward COVID-19 relief that works

for you.

Check

Receive a monthly impact report explaining how

your money helped.

Grow

As you get repaid, Kiva will re-lend your money and multiply

your impact.
Frequently asked questions
Are my contributions loans or donations?

All contributions to the Global COVID-19 response fund are loans.

Can I just contribute to the response fund once, rather than monthly?

Yes. If you choose "One-time support" , the selected amount will only be deposited once.

If I already have a balance with Kiva, will those funds be used toward this fund?

Yes, signing up for the Global COVID-19 Response fund will deploy available credit as well as future repayments toward COVID-19 loans.

Will I know who my funds are helping?

Yes. We'll send you an update email every time your funds have been used to support someone.

Can I request to forgive my loan or request that the borrower not have to repay?

While offers to forgive loans are very generous, Kiva's lending process is designed to accommodate loans and not donations. This means that all funding requests posted to Kiva are considered loans, and there unfortunately isn't a way to request that a borrower not repay your portion of the loan they received.

Can I cancel my monthly contribution?

You can cancel your monthly contribution at any time.

What happens after my loan has been repaid?

For monthly depositors, as borrowers repay their loans, your money will automatically be relent to other small businesses or entrepreneurs, multiplying your impact. For single depositors, you may withdraw or manually re-lend your money upon repayment.

Can I withdraw or re-lend my funds?

You may withdraw or re-lend funds for COVID-19 relief after your funds have been used toward a loan and returned to you as repayments.

What will happen to allocated COVID-19 response funds once borrowers no longer need resources to address the impact of the pandemic?

If there are no longer COVID-19 specific needs to address, we'll get in touch with you to ask you to change your settings.

Interested in a partnership with Kiva?

If you're an organization that wants to partner with us on these efforts, please reach out to us at partnerships@kiva.org.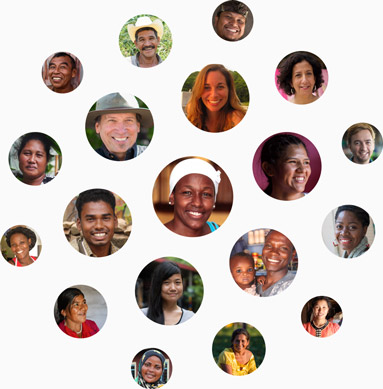 Over $1.4 billion in impact in
70+ countries
Kiva is an international nonprofit, founded in 2005 in San Francisco, with a mission to expand financial access to help underserved communities thrive and in some cases, provide relief when crises may arise.
We do this by crowdfunding loans and unlocking capital for the underserved, improving the quality and cost of financial services, and addressing the underlying barriers to financial access around the world. Through Kiva's work, students can pay for tuition, women can start businesses, farmers are able to invest in equipment and families can afford needed emergency care.
By lending as little as $25 on Kiva, you can be part of the solution and make a real difference in someone's life.
100% of every dollar you lend on Kiva goes to funding loans.