Kiva Lending Team: KivaFriends.org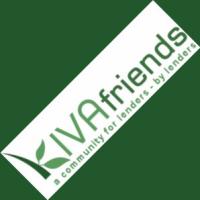 We loan because...
we are a diverse group of people with diverse reasons for participating on Kiva.org, but with a unifying desire to alleviate poverty around the world through making microloans to the hard working poor.
About us
We are a community for lenders by lenders, originally started to extend the reach of those who participated in our lender forums at KivaFriends.org. While that forum is no longer active, we welcome all Kiva.org lenders to join together here.
Location: All Over The World Team website
Team Activity
Colombia

Cindy Isabel

received a loan from

Amy

to buy flours, cheese, butter, yeast, moulds, sugar, salt, essences, and more.

Burkina Faso

Antoinette

received a loan from

Alin

to buy 3 bales of used top quality clothing, 5 bales of used second quality clothing and to save to open an account for her children.

El Salvador

Osvaldo Antonio

received a loan from 2 team members to buy soil, straw, sand, and other supplies to manufacture mud bricks.

Paraguay

Kuña Katupyry Group

received a loan from

Andra

to buy raw material to make her empanadas like vegetables, meat, chicken, condiments and other products.

Cambodia

Pov

received a loan from

Kenji Iwase

to purchase the farmland to prepare for planting rice when the next season comes.