Kiva Lending Team: KivaFriends.org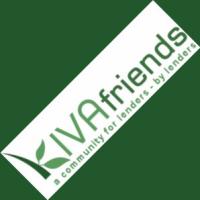 We loan because...
we are a diverse group of people with diverse reasons for participating on Kiva.org, but with a unifying desire to alleviate poverty around the world through making microloans to the hard working poor.
About us
We are a community for lenders by lenders, originally started to extend the reach of those who participated in our lender forums at KivaFriends.org. While that forum is no longer active, we welcome all Kiva.org lenders to join together here.
Location: All Over The World Team website
Team Activity
Kenya

Malawi

Palestine

Brazil

Chácara Maria Group

received a loan from

Ramona

to buy various items for making cakes and sweets, such as condensed milk, eggs, flour, and milk.

Guatemala

Paraguay

Paraguay

Rwanda

Madagascar

Heri-Go Madagascar

received a loan from

Charity

to purchase solar home systems that will be financed for more than a thousand households in Madagascar.

Senegal