Kiva Lending Team: KivaFriends.org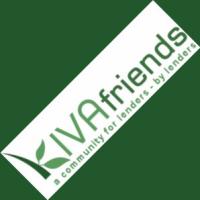 We loan because...
we are a diverse group of people with diverse reasons for participating on Kiva.org, but with a unifying desire to alleviate poverty around the world through making microloans to the hard working poor.
About us
We are a community for lenders by lenders, originally started to extend the reach of those who participated in our lender forums at KivaFriends.org. While that forum is no longer active, we welcome all Kiva.org lenders to join together here.
Location: All Over The World Team website
Team Activity
Rwanda

Nicaragua

Kerens Yissell

received a loan from

Cindy

to buy 100 rearing chickens, fortified food, and to prepare an area so that they are in a better place.

Ecuador

Adriana Magdalena

received a loan from

natalie

to buy disposable molds for desserts, a variety of meats, sausages, and various kitchen utensils.

Nicaragua

Peru

Rwanda

Congo (DRC)

De Sion Group

received a loan from

Oli

to stock up with general and speciality medicines which will boost her initial capital.

Madagascar

Samoa

Sinamatinae

received a loan from

Oli

to buy material, fabric paint, stencils, brushes, rollers, wooden carved designs and a new cutter for her elei business.