Check out some available loans that are similar to this one!
Kenya

Agriculture

Funding via Asante Kenya Foundation

Kenya

Agriculture

Funding via Asante Kenya Foundation

Kenya

Agriculture

Funding via Asante Kenya Foundation
Franklin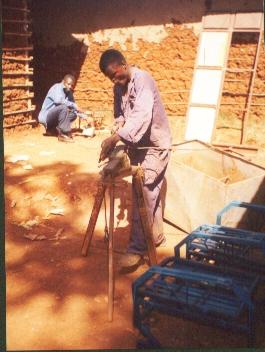 Franklin is a 37 year old widower with four children living in the Kibera slums of Nairobi. Having not completed his secondary school education, Franklin decided to come to Nairobi from his home in the Kisii district to try his luck in the capital city.

Fortunately, he had a cousin who owned a metal workshop. He was able to assist with tasks at the workshop which gave him work exposure. After about 6 months he left and was employed at a firm named Joaki Enterprises within the city. That was in 2000. Franklin was lucky and got a contract to make windows and doors for Ksh 17,000 (USD 243). With this kind of money, he decided that it was time to be on his own. Through his savings and the money he earned from the contract, Franklin started his own workshop in September 2005. Since then the business has been doing well and has enabled him to put his eldest daughter into a boarding school in Kakamega, the western part of Kenya.

The only impediment to Franklin's business is that he doesn't have a grinder and drilling machine. Quite often he borrows from neighboring workshops, which are sometimes not willing to loan their equipment. Time and money is wasted negotiating for the equipment. Lately he has been losing business due to the lack of machines.

Therefore Franklin is kindly asking for a loan of USD 200 to enable him to purchase the grinder and drilling machines. The new additions to his business will allow him do his work quickly and efficiently. This will bring back his clients and he will get contracts to make windows, doors and other welding related work. Franklin sees this as a way of creating job opportunities and intends to employ two more people to help him at the workshop. This is because he envisions that he will have more work from additional contracts. The repayment period for the loan is 8-15 months.
Success!! The loan was 100% repaid
A loan of $200 helped Franklin to purchase a grinder and drilling machine.
11 months (Additional Information)
Monthly
Apr 10, 2007
Mar 27, 2007
N/A

Ended:

Dec 27, 2007