Check out some available loans that are similar to this one!
El Salvador

Housing

Funding via Apoyo Integral

El Salvador

Housing

Funding via Apoyo Integral

El Salvador

Housing

Funding via Apoyo Integral
Reyna Isabel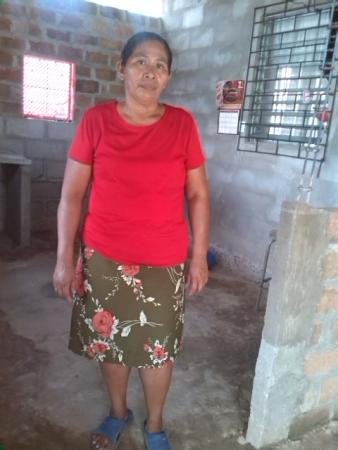 Reyna is 47 years old and she lives in her own home together with her husband. She makes her living making clothes such as skirts, dresses and blouses. She has been working in this area for 18 years and it has allowed her to support her family and maintain the household's income together with her husband.

Reyna is seeking this loan from FUSAI to invest in the construction of a room for the kitchen and to lay down cement on the floor of the hallway for which she will need materials such as bricks, cement, sand and iron. She hopes to obtain this financing and start the improvements as soon as possible.

Translated from Spanish
View original language description ↓
Reyna tiene 47 años de edad y habita en casa propia junto a su esposo. Ella se dedica a la confección de prendas de vestir como: faldas, vestidos y blusas. Tiene 18 años de contar con este negocio lo cual le permite llevar el sustento a su familia y mantener la economía del hogar junto a su esposo. Reyna solicita este crédito a FUSAI para invertir en la construcción de un cuarto para la cocina y encementar el piso del corredor para lo cual necesita materiales como: ladrillo, cemento, arena y hierro. Espera poder contar con este financiamiento y dar inicio a las mejoras lo antes posible.
Additional Information
More information about this loan
This loan will be administered by FUSAI (Salvadoran Foundation for Comprehensive Development), a Salvadoran NGO that owns Kiva partner Apoyo Integral. FUSAI will disburse this loan in order to reach a population that doesn't currently work with Apoyo Integral. This type of loan covers basic services (like housing and water), and supports small business and agricultural activities. Borrowers come from low-income families in rural and peri-urban communities, and are considered to be too poor or lack the proper guarantees to get credit through traditional banks or microfinance institutions. Before receiving their loans, they are vetted by local community organizations and enrolled in classes in financial literacy, and the importance of sanitation, potable water and clean energy. Additionally, FUSAI enables borrowers to guarantee one another and take out loans smaller than El Salvador's average. Important to note is El Salvador is considered one of the most dangerous countries in the world, holding the 2nd place in the ranking of murders per capita. All these FUSAI borrowers live in areas considered by the police as highly violent and dangerous, mainly because of gangs influence. Main risks they face in these areas are thefts, extortions, kidnappings and murders.
About Apoyo Integral
Apoyo Integral (Apoyo) is a nonprofit organization offering financial products that enable clients to increase their working capital, purchase fixed assets, buy and remodel homes, expand agricultural business and more. The organization's target group is businessmen and women who have already established their businesses but need financial support to strengthen or expand them.

Like Kiva, Apoyo is committed to empowering women involved in business activities in rural areas. Kiva lenders' funds will be used to expand these services to an even greater number of poor clients in rural areas.
About Housing Loans
Many poor families cannot afford housing that meets their needs. When you make a housing loan on Kiva, you give people access to flexible capital to obtain or improve their homes. Better housing means better health, sanitation, and even educational outcomes for children. A house can also be much more for entrepreneurs who run businesses out of their homes. In this way, housing and small business loans on Kiva share a common purpose: to alleviate poverty and enable families to enjoy more stable lives.
Success!! The loan was 100% repaid
A loan of $500 helped Reyna Isabel to buy bricks, cement, sand and iron to build a room for the kitchen and to lay cement on the floor of the corridor in the house.
20 months (Additional Information)
Monthly
Mar 21, 2014
Apr 21, 2014
N/A

Ended:

Oct 17, 2015