Check out other loans that are currently fundraising!
Armenia

Health

Funding via Nor Horizon Universal Credit Organization Limited Liability Company

Mali

Agriculture

Funding via Réseau de Micro-institutions de Croissance de Revenus (RMCR)

Kenya

Agriculture

Funding via Juhudi Kilimo
Iván Darío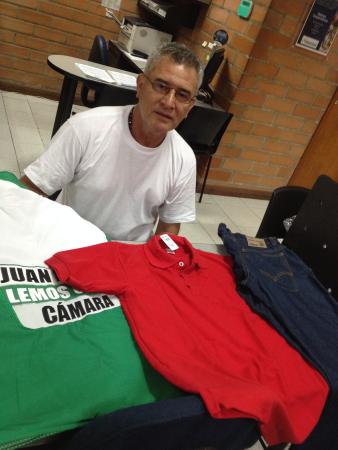 Fifty-five-year-old Iván is separated with two adult children. Three years ago he had a great idea to increase his family's income and he reorganized his home and set it up with a parking lot and general laundry services. His business has been well received and it has produced earnings for him. Taking advantage of his business setting in terms of clothing, he also sells silkscreened t-shirts. Iván dreams of having a bigger area to sell and distribute his shirts and of having the opportunity to offer other people employment. He will use this loan buy a large stock of t-shirts and to pay for silkscreening so he can offer his merchandise to everyone who visits his parking lot and laundromat. All of this will generate high earnings for him and he will keep enjoying his life in the company of his family.
Iván de 55 años, es separado y con dos hijos mayores de edad, desde hace 3 años tuvo una gran idea para incrementar sus ingresos familiares, y reordenó su vivienda y la adecuó para parqueadero de vehículos y también lavadero en general, negocio que ha tenido buena acogida y le ha representado ganancias, aprovechando el entorno de su negocio con el de la moda, también vende camisetas de punto estampadas. Iván sueña con tener un gran almacén para la venta y distribución de las misma y tener la oportunidad de generar empleo para otras personas, este préstamo lo utilizará para comprar un stock grande de camisetas y pagar la estampación ofreciendo su mercancías a todos los visitantes de su parqueadero y lavadero, todo esto le generará grandes ganancias y seguirá disfrutando de su vida en compañía con su familia.
Additional Information
Important Information
This loan is structured on Kiva as a bullet loan, which means a single payment is required at the end of the loan term. By Colombian law, Kiva's partner Interactuar is required to offer borrowers loans with a variable interest rate that fluctuates with the market rate. Because fixed monthly payments are applied first to interest and then to principal, Interactuar is unable to predict upfront what portion of each repayment would go towards the loan principal. This creates a challenge with Kiva's system, which doesn't allow for unpredictable principal payments, and can result in some Interactuar clients appearing falsely delinquent. To remedy this, the loan has an end-of-term repayment plan on Kiva, but the borrower will continue scheduled monthly repayments to Interactuar, who will then pass along the principal amount to Kiva lenders. This means that you may see repayments made on this loan throughout the repayment term, as opposed to receiving repayment in full at the end of the loan term.
Success!! The loan was 100% repaid
A loan of $500 helped Iván Darío to buy a large stock of t-shirts and to pay for silkscreening.
14 months (Additional Information)
Monthly
Feb 18, 2014
Mar 27, 2014
Possible

Ended:

Aug 30, 2014