Check out other loans that are currently fundraising!
El Salvador

Housing

Funding via Apoyo Integral

Kenya

Agriculture

Funding via One Acre Fund

Palestine

Food

Funding via Palestine for Credit & Development (FATEN)
Las Reynas Group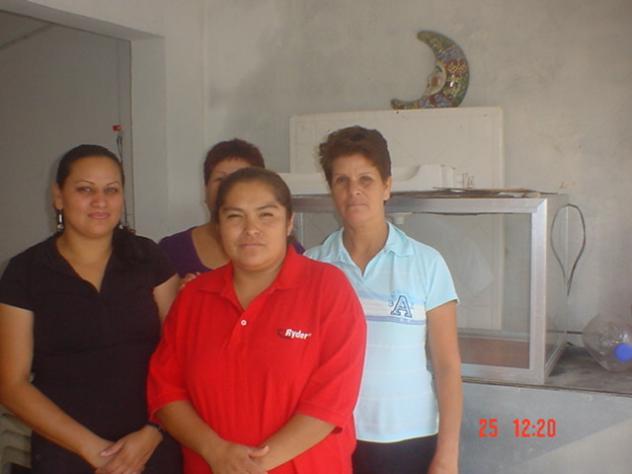 Victoria is the coordinator of the group "Las Reynas" (The Queens). She started her business to help her husband with the expenses of the household and children, and also because she could not continue employment since she had nobody to care for her son. She started selling fried foods and sweets, and gradually added products in order to offer more and better items to her clients, starting to sell tacos and meals. These provided better profits and are what she is now selling.

Ramona started her business to help with the household expenses and to help her children get ahead and have a better quality of life. She started selling clothing to her sisters and aunts, and later set herself up in a street market. Now they come and buy from her in her home, and she has been in business for about 5 years.

Griselda started her business in order to get ahead and to help her husband with the household expenses. She started selling clothing from her house, and gradually moved into the street markets and in this way has been able to support her family.

Bertha started her business in order to help her husband with the expenses and also in order to have something to fill her time since she was not working and needed something to do and to earn some income in addition to that of her husband. Three years ago she started selling frozen treats and fried foods in the plaza, which has been going well for her since she still has her stand in her house.

They need a loan of $1100, which they will repay in 6 months, in order to buy merchandise and be able to continue their businesses. With your help they will get ahead.
Translated from Spanish
View original language description ↓
Victoria es la coordinadora del Grupo "Las Reynas", ella inició el negocio por la necesidad de ayudar a su esposo con los gastos de su casa y de sus hijos, también porque ya no pudo seguir trabajando ya que no tenía quien le cuidara a su hijo. Empezó vendiendo frituras y dulces, poco a poco fue implementando los productos para poder ofrecer mas y mejores cosas a sus clientes es por eso que empezó la venta de tacos y comidas, que es lo que mejor le ha redituado y a lo que se dedica actualmente.

Ramona inició el negocio por la necesidad de ayudar a los gastos de la casa y para sacar a sus hijos adelante y tener mejor calidad de vida. Empezó vendiendo ropa a sus hermanas y tías después se ponía en un mercado rodante y ahora ya van y le compran a su casa y ya tiene aproximadamente 5 años con el negocio.


Griselda inició el negocio por la necesidad de salir adelante y ayudar a su marido con los gastos de la casa. Empezó vendiendo ropa en su casa y poco a poco se fue metiendo a los mercados rodantes y es así como a podido mantener a su familia.


Bertha inició el negocio para ayudar a su esposo con los gastos y también para tener algo en que entretenerse ya que ya no trabajaba y necesitaba distraerse y al mismo tiempo obtener algún ingreso adicional al de su esposo. Comenzó hace tres años vendía paletas de hielo y frituras en la plaza, pero gracias a que le ha ido bien ya tiene su puesto en su casa.



Ellas necesitan un préstamo por US $1100 que pagaran en 6 meses para comprar mercancía y poder continuar con su negocio. Con tu apoyo ellas seguirán progresando.
Additional Information
This is a Group Loan
In a group loan, each member of the group receives an individual loan but is part of a larger group of individuals. The group is there to provide support to the members and to provide a system of peer pressure, but groups may or may not be formally bound by a group guarantee. In cases where there is a group guarantee, members of the group are responsible for paying back the loans of their fellow group members in the case of delinquency or default.
Kiva's Field Partners typically feature one borrower from a group. The loan description, sector, and other attributes for a group loan profile are determined by the featured borrower's loan. The other members of the group are not required to use their loans for the same purpose.
Success!! The loan was 100% repaid
A portion of Las Reynas Group's $1,100 loan helped a member to buy merchandise.
8 months (Additional Information)
Monthly
Oct 25, 2008
Oct 10, 2008
Covered

Ended:

Dec 5, 2010