Check out some available loans that are similar to this one!
Mali

Agriculture

Funding via Réseau de Micro-institutions de Croissance de Revenus (RMCR)

Mali

Agriculture

Funding via Réseau de Micro-institutions de Croissance de Revenus (RMCR)

Mali

Agriculture

Funding via Réseau de Micro-institutions de Croissance de Revenus (RMCR)
Nia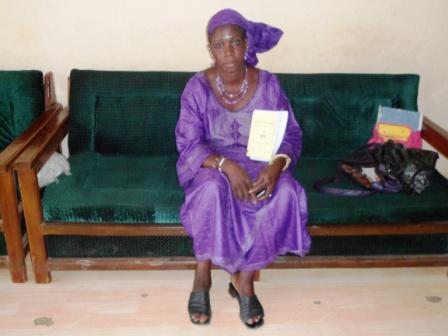 Nia was born in 1973 in Bougouni. She is the mother of 5 children and lives in a traditional family in the Torakabougou neighborhood in the city of Bougouni (third Administrative Region of the Republic of Mali).

She has been in the business of selling clothing for more than 5 years. Her experience in the domain has earned her a good reputation and has been helping her get clothing orders. So in order to have the necessary resources to satisfy her customers, she has been working with the Soro Yiriwaso microfinance institution.

This is her 3rd loan, after having repaid her previous loans on time. The loan will enable her to buy a large quantity of children's clothing. She gets her merchandise in Bamako and sells it for cash, retail, and on credit to male and female customers in the Torakabougou neighborhood and in the different neighborhoods of Bougouni.

With the loan, she hopes to earn an average monthly income of 52,000 CFA Francs. This income would allow her to pay the interest on her loan and to invest the rest in her business.
Translated from French
View original language description ↓
Madame NIA est née en 1973 à Bougouni. Mère de 5 enfants elle vit dans une famille traditionnelle dans le quartier Torakabougou de la ville de Bougouni (troisième région administrative de la république du Mali).
Elle mène des activités de commercialisation des habits depuis plus de 5 ans. Son expérience dans ce domaine, lui a valu une bonne réputation et reçoit des commandes d'habits. Ainsi pour avoir les ressources nécessaires afin de satisfaire ses clients, elle collabore avec l'Institution de microfinance Soro Yiriwaso. Elle est à son 3 eme prêt maintenant, les prêts passés ont été correctement remboursés.
Ce prêt lui permettra d'acheter, une grande qualité d'habits pour enfants. Il s'approvisionne à Bamako. Elle les revend au comptant à en détail et à crédit une clientèle mixte au quartier Torakabougou et les différents quartiers de la ville de Bougouni.
Avec ce prêt, elle envisage réaliser un bénéfice mensuel moyen de 52 000 FCFA. Ce bénéfice lui permettra de payer les intérêts de son prêt et investir le reste dans son activité.

Additional Information
Important Information
Soro Yiriwaso is a microfinance institution that works primarily in rural and semi-urban areas of Mali to provide underprivileged communities with access to financial services.The organization facilitates access for disadvantaged clients, particularly women, to new resources and services, fostering solidarity and cooperation among its clients. Kiva lenders' funds will enable Soro Yiriwaso to expand its outreach and target even more underserved Malians involved in business and agriculture.
Success!! The loan was 100% repaid
A loan of $525 helped Nia to buy children's clothing.
14 months (Additional Information)
Irregularly
Feb 20, 2014
Feb 25, 2014
Possible

Ended:

Mar 17, 2015