Check out some available loans that are similar to this one!
Ecuador

Agriculture

Funding via Fundacion Alternativa

Ecuador

Agriculture

Funding via Fundacion Alternativa

Ecuador

Agriculture

Funding via Fundacion Alternativa
German Nicolas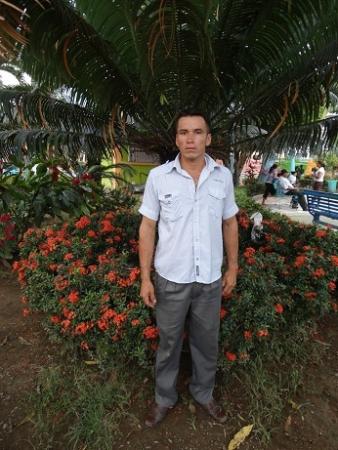 Update on German Nicolas
Germán Nicolas is 22 years old and in a common-law relationship. He lives with his wife in Mocache, which is in Los Ríos Province.

Germán is a member of the Communal Bank "Victoria", which is located in the neighborhood of Pantana in the canton of Ventanas. The members are farm workers and livestock breeders.

Germán Nicolas is a farmer who grows corn. He is requesting a loan in order to buy farming supplies that he needs such as compost, insecticides, fertilizers, urea, and fungicides. His purchases are conducted in Ventanas at the Franco commercial district. Germán dreams of buying a plot of land and improving in his business. The challenges he faces include dealing with crop diseases.

In his free time, Germán enjoys playing ball and looking after his crops.
Translated from Spanish
View original language description ↓
Germán Nicolas tiene 22 años de edad estado civil unión libre vive con su esposa en Mocache Provincia de los Ríos.
Es integrante de ventanilla Victoria que se encuentra ubicada en el Recinto Pantana, pertenece al Cantón Ventanas se dedica a labores agrícolas y pecuarias.

Germán Nicolas se dedica a la agricultura a la siembra de maíz. Solicita el crédito para los insumos que necesita para la agricultura como abono, insecticida, fertilizantes, urea, fungicida.

La compra lo realiza en Ventanas en el Comercial Franco. El sueño es comprar un terreno y mejorar en el negocio. El desafío al que se enfrenta es las plagas en el cultivo. En su tiempo libre le gusta jugar pelota y cuidar de sus cultivos.

Previous Loan Details
German Nicolas is 21 years old and single with no children. He lives with his parents in the city of Ventanas, Provincia de los Rios [Province of the Rivers]. He is a member of VRC LA VICTORIA, located in the Pantano district and part of the canton Ventanas which is dedicated to agricultural ... More from German Nicolas's previous loan »
Additional Information
About Cooperativa San Jose
This loan is administered by Cooperativa San Jose, a 45,000-member credit union located high in the Andes Mountains of Ecuador's poorest province, Bolivar. They offer a unique loan called "Ventanillas Rurales" [Window to the Countryside], which uses a group guarantee but is an individual loan with a savings component, mostly to rural borrowers. Due to low savings rates and a history of macroeconomic instability, many traditional loans in Ecuador demand interest rates that are prohibitively high for some borrowers. There is also a high incidence of extortionist black-market lending in Ecuador. CSJ helps mitigate these problems by providing a less onerous and more appropriate option. Join CSJ's Lending Team!
Concurrent and Successive Loans
Our Field Partners often work with borrowers over a series of loans as the borrowers build credit, take out bigger loans, and expand their businesses. In order to make it easier for our Field Partners to post loans for borrowers who have been listed on Kiva before, we allow them to post successive and concurrent loans for their Kiva borrowers. This means that our Field Partners are able to post a borrower's second, third, etc., loan on Kiva without having to re-enter all of the borrower's information.
This borrower has been listed on Kiva before, so you'll see an updated loan description, as well as excerpts of the original descriptions from earlier loans. Most borrowers take out loans consecutively, meaning that they receive a second loan after having repaid the first. However, sometimes our Field Partners give out concurrent loans, allowing borrowers to take out one primary loan and a secondary "add-on" loan along with it. These "add-on" loans are typically smaller than the borrower's primary loan and serve a different purpose. Because Field Partners can now post loans as successive and concurrent loans, you will be able to track borrower progress over time and see the various ways a borrower is working with our Field Partners through funds from Kiva's lenders.
Success!! The loan was 100% repaid
A loan of $800 helped German Nicolas to buy compost, insecticides, fertilizers, urea, and fungicides.
14 months (Additional Information)
At end of term
Jan 16, 2014
Feb 1, 2014
N/A

Ended:

Feb 17, 2015