Check out some available loans that are similar to this one!
Bolivia

Food

Funding via Emprender

Bolivia

Food

Funding via Emprender

Bolivia

Food

Funding via Emprender
Danas Del Sur Group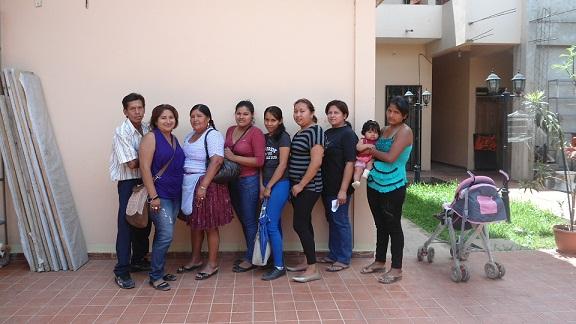 The communal bank DANAS DEL SUR is made up of eight members: seven women and one man, who all work different jobs.

The president of the bank is Ruthy, who is 34 and married with one seven year old son. In the photo Ruthy is the one with the brown satchel in the purple blouse. She sells empanadas (a kind of pastry) in the mornings at a market near her house, and sells dinner in the evenings. Her husband also helps with the finances by working in his own carpentry shop.

This loan is Ruthy's first cycle within the institution. She is going to use the loan to buy supplies wholesale, and as such increase her working capital. Ruthy faces challenges in her business which include the lack of capital to increase her sales, since she sees the market is growing. She will use the funds to continue improving her business, and her wish for her business is to increase food sales since it is going well and her clientele is growing.
Translated from Spanish
View original language description ↓
El banco de emprendimiento DANAS DEL SUR, está compuesto por ocho integrantes siete mujeres y un varón, todos ellos se dedican a distintas actividades, la presidenta del banco es la señora Ruthy, tiene 34 años y es casada con 1 hijo que tiene la edad de 7 años, en la foto la señora Ruthy es la del bolsón café y blusa lila, ella se dedica a vender en un mercado cerca de su casa vende por las mañanas empanadas y por las noches cena, su esposo también le ayuda en lo económico ya que el trabaja con su propia carpintería, este préstamo es su primera secuencia dentro de la institución, va a usar este préstamo de para la compra de insumos al por mayor y asi incrementar su capital de trabajo, la señora Ruthy enfrenta retos en su negocio que son el que enfrenta es la falta de capital para aumentar sus ventas ya que ella se encuentra en mercado que va creciendo. Va a utilizar los beneficios en seguir mejorando su negocio, su deseo para su negocio es ampliar la venta de comida ya que le va muy bien ya que está incrementando su clientela.
Additional Information
About Emprender
Emprender has been working in Bolivia since 1999. It is dedicated to becoming a key tool in the development of its clients and the improvement of their quality of life. Operating in three of Bolivia's major cities – La Paz, Cochabamba, and Santa Cruz – Emprender offers both urban and rural clients the opportunity to obtain financial products tailored to fit their needs and businesses. These products include housing loans, salary loans, "opportunity" (short-term) loans, and higher education loans. To better the quality of life for its clients and non-clients through non-financial services, Emprender offers free medical consultations and health classes given by trained doctors.
This is a Group Loan
In a group loan, each member of the group receives an individual loan but is part of a larger group of individuals. The group is there to provide support to the members and to provide a system of peer pressure, but groups may or may not be formally bound by a group guarantee. In cases where there is a group guarantee, members of the group are responsible for paying back the loans of their fellow group members in the case of delinquency or default.
Kiva's Field Partners typically feature one borrower from a group. The loan description, sector, and other attributes for a group loan profile are determined by the featured borrower's loan. The other members of the group are not required to use their loans for the same purpose.
Success!! The loan was 100% repaid
A portion of Danas Del Sur Group's $3,350 loan helped a member to buy supplies wholesale.
8 months (Additional Information)
Irregularly
Oct 16, 2013
Dec 2, 2013
Possible

Ended:

May 17, 2014