Check out some available loans that are similar to this one!
Mali

Agriculture

Funding via Réseau de Micro-institutions de Croissance de Revenus (RMCR)

Mali

Food

Funding via Réseau de Micro-institutions de Croissance de Revenus (RMCR)

Mali

Retail

Funding via Réseau de Micro-institutions de Croissance de Revenus (RMCR)
Benkadi Group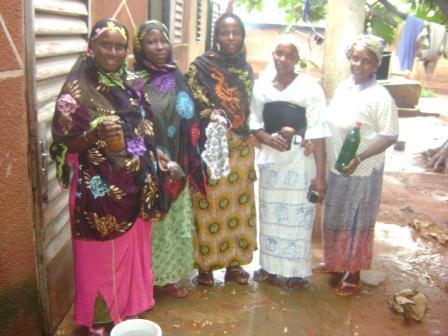 The five members of the Benkadi group are married women, who average 40 years of age with an average of three children each. The majority of them live in monogamous families in Ouayerma I, one of the working class districts of the town of Sikasso, the Republic of Mali's third administrative region.

They are on their first loan from the microfinance institution, in order to be able to satisfy their customers' demand.

Salimata, who is sitting on the far left of the photo makes and sells incense. With her loan she is planning to buy the raw materials needed to make incense ("magnkiseni", perfumes, "guéni", and bottles) which she will retail for cash at a specific place in Sikasso and within her family to a customer base made up of men and women.

She expects to make an average monthly profit of 25,000FCFA, part of which will be used to repay her loan and the interest on it, while the remainder will be saved.
Translated from French
View original language description ↓
Les cinq membres du groupe BENKADI sont des femmes mariées avec une moyenne d'âge de 40 ans, et ont en moyenne 3 enfants. Elles vivent la plupart dans des familles monogamiques à OUAYERMA I un des quartiers populaires de la ville de Sikasso 3ème région administrative du Mali.
Elles sont à leur premier prêt avec l'institution de micro finance Soro Yiriwaso afin de satisfaire le besoin de leur clientèle.
Mme SALIMATA assise en première position de la gauche vers la droite fait la préparation et vente de l'encens. Elle compte acheter avec son prêt de la matière première pour la fabrication de l'encens (magnkiseni, parfums, guéni, et bouteilles) qu'elle revendra en détail à Sikasso à une place fixe et en famille à une clientèle composée d'hommes et de femmes au comptant.
Elle envisage réaliser un bénéfice mensuel moyen de 25 000 francs CFA dont une partie est utilisée pour payer le prêt et son interêt et l'autre pour son épargne.

Additional Information
Important Information
Soro Yiriwaso is a microfinance institution that works primarily in rural and semi-urban areas of Mali to provide underprivileged communities with access to financial services.The organization facilitates access for disadvantaged clients, particularly women, to new resources and services, fostering solidarity and cooperation among its clients. Kiva lenders' funds will enable Soro Yiriwaso to expand its outreach and target even more underserved Malians involved in business and agriculture.
This is a Group Loan
In a group loan, each member of the group receives an individual loan but is part of a larger group of individuals. The group is there to provide support to the members and to provide a system of peer pressure, but groups may or may not be formally bound by a group guarantee. In cases where there is a group guarantee, members of the group are responsible for paying back the loans of their fellow group members in the case of delinquency or default.
Kiva's Field Partners typically feature one borrower from a group. The loan description, sector, and other attributes for a group loan profile are determined by the featured borrower's loan. The other members of the group are not required to use their loans for the same purpose.
Success!! The loan was 100% repaid
A portion of Benkadi Group's $525 loan helped a member to buy ingredients for making incense.
6 months (Additional Information)
Monthly
Sep 25, 2013
Oct 21, 2013
Possible

Ended:

Feb 17, 2014