Check out some available loans that are similar to this one!
Mexico

Housing

Funding via Kubo.financiero

Mexico

Health

Funding via Alivio Capital

Mexico

Health

Funding via Alivio Capital
Las Amigas Group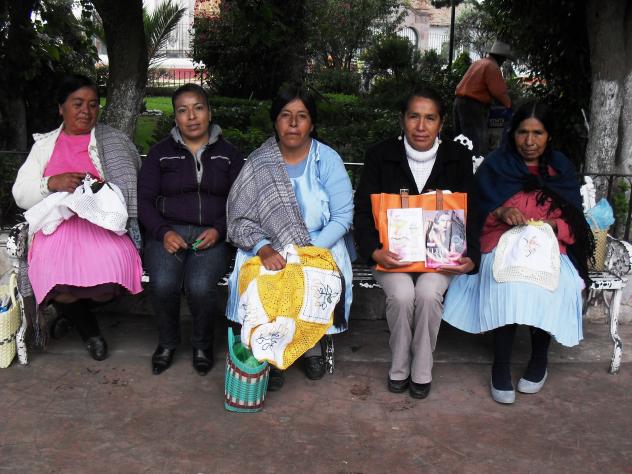 The "Las Amigas" group is made up of five women who live in a very quiet community where the region's typical traditions are still preserved, such as their native language, and their patron saints' festivals, etc. They chose the name of the group because of the great friendship that exists between them. Their friendship is very valuable. Felipa, the group's representative, is 42. She has been married to Jose Eduardo for 25 years, and together they have three children, who are in school. Felipa has worked selling beauty products out of a catalogue for 12 years. She says that she started this activity because she was invited to sell catalogue beauty products. She offered her beauty products to her friends, neighbors, and relatives. She liked this a lot because she had a lot of customers. "At first, I did not like it, because I did not trust people, but over time, I have made many friends. I've kept selling because there are also prizes when one reaches a goal." After a long time, Felipa is now the leader of a group of people who also work selling beauty products out of a catalogue. For Felipa, this is a very comfortable job, because it does not require a lot of time. She can offer her catalogues while she does other things, like look after her children. The members of the group are very glad for the opportunity to get a loan funded by people from different countries, because it will be very helpful for their businesses. Tomasa will invest in a flower shop, Adelina in raising piglets, Alicia in her beauty shop, and Susana in raising sheep.
Translated from Spanish
View original language description ↓
El grupo "Las Amigas" está conformado por cinco mujeres que viven en una comunidad muy tranquila donde aún se conservan las tradiciones típicas de la región como su lengua materna, sus fiestas patronales, etc. El nombre del grupo lo eligieron por la gran amistad que existe entre ellas para ellas, su amistad es muy valiosa.

Doña Felipa quien es la representante del grupo tiene 42 años de edad, está casada desde hace 25 años con el señor José Eduardo y juntos han formado una familia con tres hijos, los cuales se encuentran estudiando. Doña Felipa se dedica a la venta de productos de belleza por catalogo desde hace ya 12 años. Platica que inició su actividad porque la invitaron a vender productos de belleza por catálogo; ofrecía sus productos de belleza con sus amigas, vecinas y familiares. La actividad le gustaba mucho porque tenía muchos clientes "Al principio no me gustaba porque no tenía confianza en las personas, pero con el tiempo he ganado muchas amistades, he seguido vendiendo porque también hay premios cuando se llega a la meta". Después de mucho tiempo Doña Felipa es ahora líder de un grupo de personas que también se dedican a vender productos de belleza por catalogo. Para Doña Felipa es muy cómoda esta actividad porque no requiere de mucho tiempo, puede ofrecer sus catálogos mientras al mismo tiempo está haciendo otras cosas incluso estar al pendiente de sus hijos. Las íntegrantes del grupo están muy contentas por la oportunidad de obtener un crédito fondeado por personas de distintos países porque será de gran ayuda para sus negocios. Doña Tomasa invertirá en una florería, Adelina en la cría de lechones, Alicia en su estética y Susana en la cría de borregos.
Additional Information
This is a Group Loan
In a group loan, each member of the group receives an individual loan but is part of a larger group of individuals. The group is there to provide support to the members and to provide a system of peer pressure, but groups may or may not be formally bound by a group guarantee. In cases where there is a group guarantee, members of the group are responsible for paying back the loans of their fellow group members in the case of delinquency or default.
Kiva's Field Partners typically feature one borrower from a group. The loan description, sector, and other attributes for a group loan profile are determined by the featured borrower's loan. The other members of the group are not required to use their loans for the same purpose.
Success!! The loan was 100% repaid
A portion of Las Amigas Group's $4,375 loan helped a member to buy beauty products and cosmetics.
8 months (Additional Information)
Monthly
Sep 12, 2013
Oct 1, 2013
Possible

Ended:

Apr 16, 2014