Check out some available loans that are similar to this one!
Teresa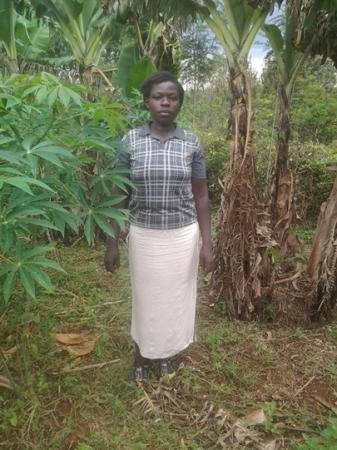 Teresa lives in the Kisii area of Kenya, which is an area that does not suffer from a dry season. She has two children. Her primary income sources are crops, transportation services, and a personal business; she has been doing this work for four years.

She stated what is most enjoyable about farming: 'Keeping Dairy!' Her biggest challenge is 'Lack of finance.' Animals on the farm have been given the names of 'Raila.'

Teresa was asked why she chose Juhudi Kilimo for this loan, to which she replied: 'Because she was interested in dairy farming.' This client was also asked what was learned during Juhudi's required micro-finance training session: 'That they conduct training before issuing loans.'

Her highest monthly expense is farming costs. When asked 'How will this loan benefit her family', Teresa replied 'The children will get milk for consumption.'

As part of Juhudi's loan appraisal process, each borrower's assets are evaluated. Teresa owns the following: 'cow, poultry, bicycle, motorcycle' but does not own 'pig, pump, automobile'. Juhudi Kilimo also tries to measure any change in living standards based on this loan. This borrower has in the household 'mosquito net' but does not have 'electricity, solar power, running water, sewing machine, TV, DVD'.
Additional Information
Important Information
To facilitate a partnership between Kiva and Juhudi Kilimo, K-Rep Group (Juhudi Kilimo's 100% owner) has guaranteed Kiva funds in the event of institutional default. Lenders should be aware that the risk of borrower default remains borne by the lender.

About Juhudi Kilimo:

Juhudi Kilimo is a for-profit social enterprise working with small-holder farmers in Kenya to finance purchases of dairy cows, chickens, agricultural equipment, and other assets that create immediate cash flow. Many of the assets are insured to prevent devastating business losses, and targeted technical assistance is provided to farmers, from agricultural training to basic book keeping and local market research.
Success!! The loan was 100% repaid
A loan of $550 helped Teresa to purchase a dairy cow.
17 months (Additional Information)
Irregularly
Jul 31, 2013
Aug 31, 2013
Possible

Ended:

Sep 17, 2014