Check out some available loans that are similar to this one!
Velasquez Jimenez Group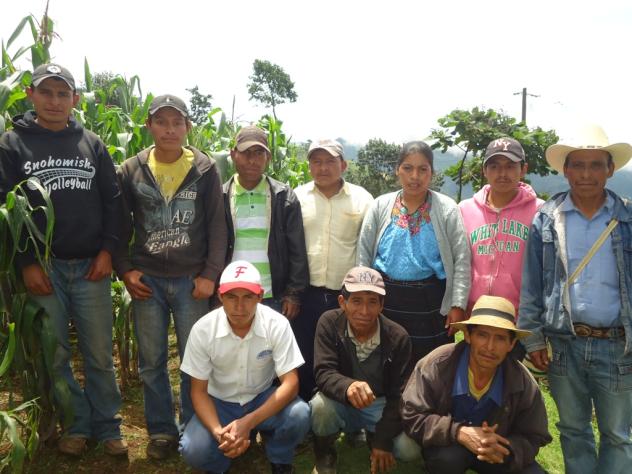 Edgar Roberto is single and is 26 years old. He has a 4th grade education. He is a farmer who cultivates corn. He started this business with his parents, and up until now he has 5 years of experience. He has the full support of his family.

Edgar is organizing a group and requesting a loan that he will use to buy agricultural supplies such as fertilizers and seeds. In the future, he wants to have more capital so that he can plant more corn and thereby generate higher earnings.

The other members of this group cultivate corn. In the photograph 10 members appear, but only 9 of them are taking this loan.
Translated from Spanish
View original language description ↓
El señor Edgar Roberto es soltero, tiene 26 años de edad, curso 4 años de educación primaria, se dedica a la agricultura sembrando maíz, inició este negocio con su padres y hasta la fecha lleva 5 años de experiencia, cuenta con todo el apoyo de su familia.

Organiza un grupo y solicita un préstamo que le servirá para la compra de insumos para agricultura tales como: fertilizante y semillas, desea en el futuro contar con un capital amplio para poder sembrar mas maíz y asi poder generar mejores ganancias. Los demás integrantes del grupo se dedican a la siemnra de maíz.
En la fotografía aparecen 10 integrantes pero, solamente a 9 de ellos se les concedió el préstamo.



Additional Information
About Asociación ASDIR
ASDIR (Asociación de Desarrollo Integral Rural - Association for the Development of Rural Communities) is a community-based organization that works to promote development in the villages and communities where it serves. It was founded in 1999 in the village of Nimasac, Totonicapán Department, by a handful of local men and women to support community projects and group loans. Today ASDIR has 5 offices across 3 departments (Totonicapán, Sololá and Suchitepéquez) serving more than 6,000 clients, most of them in rural communities.
This is a Group Loan
In a group loan, each member of the group receives an individual loan but is part of a larger group of individuals. The group is there to provide support to the members and to provide a system of peer pressure, but groups may or may not be formally bound by a group guarantee. In cases where there is a group guarantee, members of the group are responsible for paying back the loans of their fellow group members in the case of delinquency or default.
Kiva's Field Partners typically feature one borrower from a group. The loan description, sector, and other attributes for a group loan profile are determined by the featured borrower's loan. The other members of the group are not required to use their loans for the same purpose.
Expired
A portion of Velasquez Jimenez Group's $3,250 loan helped a member to buy agricultural supplies.
14 months (Additional Information)
At end of term
Jul 2, 2013
Jul 18, 2013
Possible

Expired:

Aug 17, 2013