Check out some available loans that are similar to this one!
Mexico

Retail

Funding via VisionFund Mexico

Mexico

Retail

Funding via VisionFund Mexico

Mexico

Food

Funding via VisionFund Mexico
Barrio La Cañada Group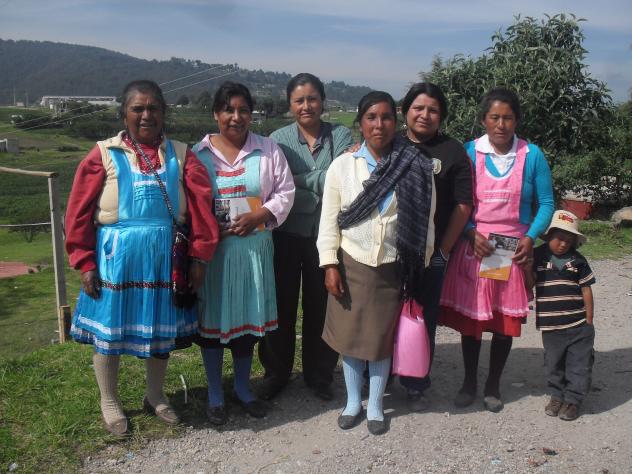 The "Barrio La Canada" ( La Cañada district ) group is made up of six extremely hardworking women who all share the same determination to excel in their businesses and support their families. They have known each other for a number of years and during this time they have built up a close and sincere friendship. They live in a Mazahua community where some people still communicate in their native language. Nowadays very few women still wear the typical local dress which is characterised by very bright colours. Something very characteristic of the community where the group is based is its very green pasture land and the beautiful scenery of wooded hills.

Adriana, who is 26, is one member of the group. She was only educated to secondary level and is known for being very cheerful and always in a good mood. She lives with Angel, who works as a bricklayer, and together they have built a family of five children, two of who are still in education. Adriana has had a grocery shop for 4 years now. She is seeking a loan to buy more groceries such as bread, eggs, milk, soft drinks, tinned goods etc. Adriana says that she set up the grocery shop because where she lives there was no shop to buy anything. She says that the loan has enabled her to keep her grocery shop going; she always tries to stock a bit of everything so as to keep her customers happy. Her shop is doing very well and she makes good profits as she makes sales every day. Her only problem is the fact that she has no fridge because her previous one broke down, meaning that she will not be able to sell soft drinks or dairy products for a while. She will now have to save up to pay for the fridge to be repaired. Adriana hopes that her profits will not fall because her one ambition in life is to manage to get a bigger shop and turn it into a general store.

Adriana says: "I also want to help my children study for a professional career to improve their quality of life".

The members of the group are grateful because the loan will be useful for their economic activities and will perhaps help them increase their profits and extend their businesses. Irma and María Elsa will invest in their grocery shops; Zenaida and Irene will invest in chickens; and Carmen will invest in sheep.
El grupo "Barrio La Cañada" está integrado por seis mujeres todas muy trabajadoras con muchas ganas de poder sobresalir en sus negocios y sacar adelante a su familia, se conocen desde hace ya varios años con el tiempo han llegado a construir una gran y sincera amistad. Ellas viven en una comunidad mazahua algunas personas aun se comunican en su lengua indígena, ya son muy pocas las mujeres que aun lucen sus trajes típicos caracterizados por sus colores muy llamativos. Algo muy característico de la comunidad donde se ubica el grupo es su pastizal muy verde y los hermosos paisajes de cerros muy frondosos. Adriana quien es integrante del grupo tiene 26 años de edad, solo estudio hasta la secundaria, se caracteriza por ser muy alegre siempre está de muy buen humor, vive en unión libre con su esposo Ángel quien trabaja como albañil, juntos han formado una familia con cinco niños de los cuales dos se encuentran estudiando. Adriana tiene una tienda de abarrotes desde hace ya cuatro años. Esta vez está solicitando el crédito para comprar más productos de abarrotes como pan, huevo, leche, refrescos, productos enlatados, etc. Adriana platica que inició la tienda de abarrotes porque donde donde vive no había tienda para adquirir algún producto. Ella platica que gracias al crédito ha podido mantener su tienda de abarrotes, procura tener siempre un poco de todo para así tener a sus clientes contentos con su servicio. El negocio de Adriana marcha muy bien, tiene buenas ganancias todos los días tiene ventas, su único inconveniente es la falta de su refrigerador, se lo descompusieron y por un buen rato no podrá vender refrescos fríos y productos lácteos. Ahora tendrá que ahorrar dinero para poder arreglar su refrigerador. Adriana espera no bajar sus ganancias porque su única ambición en la vida es llegar a tener una tienda más grande y a convertirla en una miscelánea. Adriana comento: "También deseo ayudar a mis niños a estudiar una carrera profesional para mejorar su calidad de vida". Los integrantes del grupo están agradecidos porque el crédito lo emplearán en sus actividades económicas lo que quizás les ayudara a aumentar sus ganancias y ampliar su negocio. Doña Irma y María Elsa invertirán en sus tiendas de abarrotes; Zenaida e Irene, en pollos y Carmen, en borregos.
Additional Information
This is a Group Loan
In a group loan, each member of the group receives an individual loan but is part of a larger group of individuals. The group is there to provide support to the members and to provide a system of peer pressure, but groups may or may not be formally bound by a group guarantee. In cases where there is a group guarantee, members of the group are responsible for paying back the loans of their fellow group members in the case of delinquency or default.
Kiva's Field Partners typically feature one borrower from a group. The loan description, sector, and other attributes for a group loan profile are determined by the featured borrower's loan. The other members of the group are not required to use their loans for the same purpose.
Success!! The loan was 100% repaid
A portion of Barrio La Cañada Group's $3,225 loan helped a member to buy milk, bread, eggs, soft drinks, tinned goods etc.
5 months (Additional Information)
Monthly
Jul 3, 2013
Jul 18, 2013
Possible

Ended:

Nov 17, 2013