Check out some available loans that are similar to this one!
Congo (Dem. Rep.)

Clothing

Funding via Programme d'Appui aux Initiatives de Développement Economique au Kivu (PAIDEK)

Congo (Dem. Rep.)

Retail

Funding via Programme d'Appui aux Initiatives de Développement Economique au Kivu (PAIDEK)

Congo (Dem. Rep.)

Food

Funding via Hekima, a partner of World Relief
Mufariji Group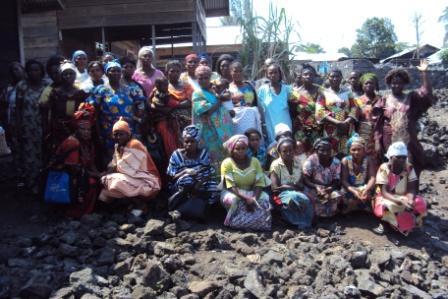 Hekima client Rachel is a member of the business group called "Mufariji", a young but experienced entrepreneur, aged 34, married, and the mother of seven children who are all enrolled in school. Her spouse is a master mason/builder. The client sells cement. She has a storeroom where she sells the cement. She began her business with an MFI Hekima loan about four years ago. This new loan will allow hter to buy six sacks of cement. In this way she would like to grow her business, pay school fees and feed her children. She would like to thank Hekima sincerely for helping small entrepreneurs with micro-loans.
Translated from French
View original language description ↓
La cliente Rachel est membre du groupe d'affaire « Mufariji», jeune entrepreneur expérimentée, âgée de 34 ans, mariée et mère de 7 enfants qui étudient tous. Son conjoint est un maitre maçon constructeur. La cliente est vendeuse de ciments. Elle dispose un entrepôt de vente ciments. Elle commença ses affaires avec le prêt de l'IMF hekima, Il y a environ 4 ans. Ce nouveau prêt va lui servir d'acheter 6 sacs de ciments. Ainsi, elle souhaite accroitre son entreprise, scolariser et nourrir ses enfants. Au finish, elle remercie fortement Hekima pour son soutien en microcrédit aux petits entrepreneurs.
Additional Information
Important Information
HEKIMA is a microfinance institution headquartered in Goma, Democratic Republic of the Congo (DRC), with branch offices in Goma and Bukavu. HEKIMA aims to contribute to the transformation of the economic, social, and spiritual lives of the economically active poor of the DRC. To this end, HEKIMA provides its clients with solidarity group loans to support income-generating activities. Despite ongoing instability and violence in its operating areas, HEKIMA continues to keep its doors open and provide credit and savings services for its over 90% female clientele.
This is a Group Loan
In a group loan, each member of the group receives an individual loan but is part of a larger group of individuals. The group is there to provide support to the members and to provide a system of peer pressure, but groups may or may not be formally bound by a group guarantee. In cases where there is a group guarantee, members of the group are responsible for paying back the loans of their fellow group members in the case of delinquency or default.
Kiva's Field Partners typically feature one borrower from a group. The loan description, sector, and other attributes for a group loan profile are determined by the featured borrower's loan. The other members of the group are not required to use their loans for the same purpose.
About Congo (Dem. Rep.)
$700

$13,515,025

US Dollars
Success!! The loan was 100% repaid
A portion of Mufariji Group's $6,850 loan helped a member to buy six sacks of cement.
6 months (Additional Information)
Monthly
Jun 24, 2013
Jul 8, 2013
N/A

Ended:

Dec 17, 2013