Check out some available loans that are similar to this one!
Honduras

Retail

Funding via Prisma Honduras, S.A.

Honduras

Retail

Funding via Prisma Honduras, S.A.

Honduras

Food

Funding via Prisma Honduras, S.A.
Brenda Marisela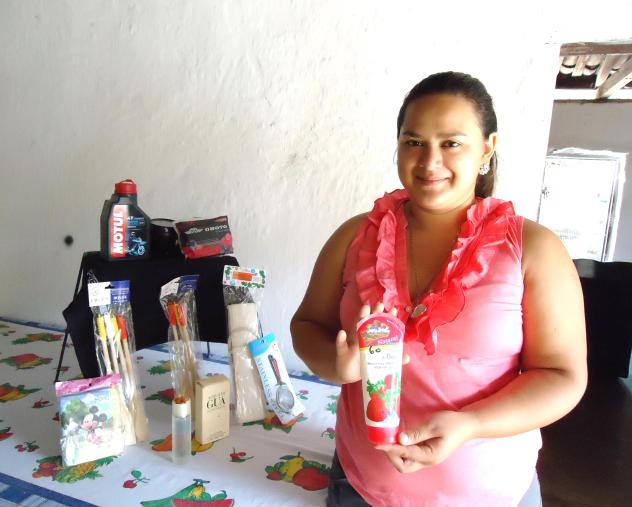 Brenda is a young woman of 21 who has a lot of dreams and goals. She is very hopeful that she will be able to fulfill each and every one of them. Brenda is married and completed her secondary education, graduating as an elementary school teacher. She does not work as a teacher as there were no jobs in any of the schools in her area. Her only support is her husband who works as a car mechanic in a well-known, very prestigious auto repair shop in her area. With his support, Brenda has decided to set up a business buying and selling general merchandise such as lotions, make-up, motorcycle oil, car oil, etc. The couple have no dependents so it is a little easier to support their family and Brenda is able to buy products on a small scale for her business.

Brenda is requesting a loan from COMIXMUL to buy general merchandise as her demand is growing and she needs to inject a little more capital into her business and invest in products to sell to her customers.

Brenda's plans are to continue enjoying the benefits offered by the cooperative with their low interest rates. She hopes to fulfill her dream of opening a general store as she currently sells her products door to door, travelling to different areas of her town.
Brenda es una joven de 21 años de edad con muchos sueños, muchas metas y muchas esperanzas de poder cumplir todas y cada una de ellas. Ella es casada con un grado de secundaria completa graduándose como maestra de educación primaria la cual no la desempeña por la falta de empleo y plazas en cada una de las instituciones en la zona donde ella habita. Su único apoyo es su pareja que actualmente él se desempeña como mecánico automotriz en un taller de la zona el cual es muy reconocido y con mucho prestigio. Con el apoyo de él, ella ha decido emprender un negocio el cual es la compra/venta de mercadería en general como: Lociones, maquillaje, aceite para motor de motocicleta y carro, etc. De ellos no depende nadie por lo tanto es un poco más fácil el sustento familiar y poder dar mantenimiento y comprar productos en pequeña escala para su negocio.

Actualmente ella solicita un financiamiento a COMIXMUL parta la compra de mercadería en general ya que la demanda de su negocio está creciendo y necesita inyectarle a su negocio un poco más de capital e invertirlo en productos para ofrecer a sus clientes.

Sus planes es poder seguir gozando de los beneficios que la cooperativa ofrece por sus tasas bajas de interés para cumplir su sueño de abrir una tienda de mercadería ya que actualmente elle vende de casa en casa sus productos desplazándose a las diferentes zonas de su municipio.

Additional Information
More information about this loan
These loans are designed for young Honduran women between ages 16 and 29 who want to start their own businesses to launch their careers. COMIXMUL offers training sessions through its sister organization FUDEIMFA that will culminate in clients writing their own business plans and receiving their first loans. The main difference between this product and other COMIXMUL loans is that the institution normally requires the client to already have an established business in order to be eligible for a loan. However, COMIXMUL is waiving this requirement for young women who attend the training sessions.
Success!! The loan was 100% repaid
A loan of $1,350 helped Brenda Marisela to buy merchandise for her cosmetics business.
26 months (Additional Information)
Monthly
Jun 21, 2013
Jun 27, 2013
Possible

Ended:

Jan 19, 2015