Check out some available loans that are similar to this one!
Litoral De Senkata Group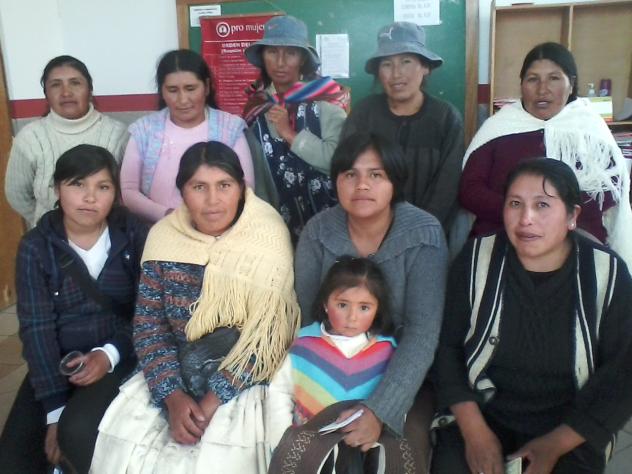 The "Litoral de Senkata" communal bank will start its 27th loan cycle in Pro Mujer, as part of the Senkata regional office. It is made up of nine members, and led by a board of directors of which Celia is the chair. The businesses that the members of the communal bank carry on are varied and include: carpentry workshop, selling used clothing, selling medicines, selling candy, making sportswear, and selling chicken.

The loan they will take out is to benefit small business owners such as Celia. She says that she joined Pro Mujer 11 years ago, at the invitation of a friend who is a member of the institution.

Currently she has a carpentry workshop in her home. The loan that she will take out now is to increase her working capital by purchasing wood, which she will acquire from the wholesale shippers in the city of La Paz. After the items are made, she will sell them in the city of Oruro, based on orders.

This work allows her to generate income for supporting her family, as she is married and has five children. When asked what she likes about Pro Mujer, she answers that she likes the training workshops and the loans.
Translated from Spanish
View original language description ↓
La A.C. "LITORAL DE SENKATA" iniciará el vigésimo séptimo ciclo en Pro Mujer, como parte del Centro Focal de Senkata, está compuesta por nueve integrantes y está dirigida por una mesa directiva donde la señora Celia es la Presidenta. Los negocios que las integrantes de la asociación comunal llevan adelante son variados entre ellos existen: taller de carpintería, venta de ropa usada, venta de medicamento, venta de dulces, producción de deportivos, venta de pollo.

El crédito que sacaran beneficiara a pequeñas microempresarias donde la señora Celia es integrante, ella indica que hace once años que integra Pro Mujer, ingresando por la invitación de una amiga que es socia de la institución. En la actualidad ella tiene un negocio de taller de carpintería en el domicilio; da a conocer que este negocio lo aprendió hace varios años de su hermano y posterior a su matrimonio decide, conjuntamente su esposo, implementar un taller en su domicilio.

El crédito que ahora sacará es para el aumento de capital (compra de madera) que adquirirá de las transportadoras mayoristas de la ciudad de La Paz y posteriormente a la elaboración lo comercializará en la Ciudad de Oruro a pedido. Esta forma de trabajo le permite generar recursos para mantener a su familia ya que ella es casada y tiene cinco hijos.

Cuando se le consulta qué le gusta de Pro Mujer, ella responde que le gusta le gusta las capacitaciones y crédito.

Additional Information
This is a Group Loan
In a group loan, each member of the group receives an individual loan but is part of a larger group of individuals. The group is there to provide support to the members and to provide a system of peer pressure, but groups may or may not be formally bound by a group guarantee. In cases where there is a group guarantee, members of the group are responsible for paying back the loans of their fellow group members in the case of delinquency or default.
Kiva's Field Partners typically feature one borrower from a group. The loan description, sector, and other attributes for a group loan profile are determined by the featured borrower's loan. The other members of the group are not required to use their loans for the same purpose.
Success!! The loan was 100% repaid
A portion of Litoral De Senkata Group's $5,050 loan helped a member to buy wood.
7 months (Additional Information)
Monthly
May 9, 2013
May 31, 2013
Covered

Ended:

Nov 18, 2013