Check out some available loans that are similar to this one!
Ecuador

Retail

Funding via Fundación ESPOIR

Ecuador

Arts

Funding via VisionFund Ecuador

Ecuador

Agriculture

Funding via Fundación ESPOIR
Grace Elsa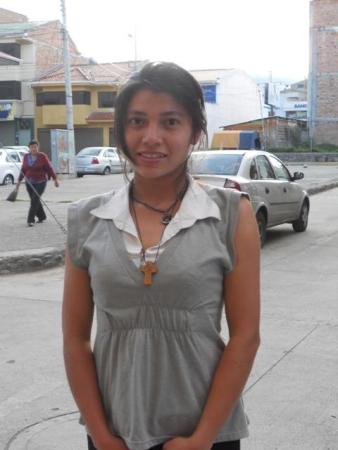 This is Grace's third loan with the Medio Ejido communal bank. She lives on the outskirts of the city of Cuenca. This city has a lot of tourists because of its beautiful colonial architecture. It is bathed by four rivers and enveloped by expansive nature. Its people conserve the culture and traditions of their villages.

Grace, age 22, is single and lives with her mother. They do not have their own house, so they rent where they live.

Grace has been selling cosmetics for five years. She sells to her friends and colleagues at the university. She is in the fifth cycle of her electrical engineering and telecommunications studies.

She will use the loan to pay for her education. She will also buy cosmetics on sale, and this way she will expand her business.

Her goal is to finish her education and to become a good professional.
La Señorita Grace está realizando su tercer crédito en el banco comunal Medio Ejido. Vive por los alrededores de la ciudad de Cuenca, esta ciudad es muy visitada por la belleza de su arquitectura colonial, se encuentra bañada por 4 ríos y envuelta por una amplia naturaleza, su gente conserva la cultura y tradiciones de sus pueblos.

La Señorita. Grace tiene 22 años de edad, es soltera y vive con su madre, no tienen casa propia por lo que viven arrendando.

Grace desde hace 5 años se dedica a la venta de cosméticos los que vende a sus amigas y compañeras de la Universidad, ella está en el quinto ciclo de la carrera Ingeniería Electrónica y Telecomunicaciones.

Su crédito lo va a invertir en pagar sus estudios y también va a comprar cosméticos de promoción y así ampliar su negocio.

Su meta es terminar sus estudios y llegar a ser una buena profesional.

Success!! The loan was 100% repaid
A loan of $675 helped Grace Elsa to buy cosmetics and to pay for her education.
8 months (Additional Information)
Monthly
Apr 26, 2013
Jun 4, 2013
N/A

Ended:

Nov 17, 2013