Check out some available loans that are similar to this one!
Amélévi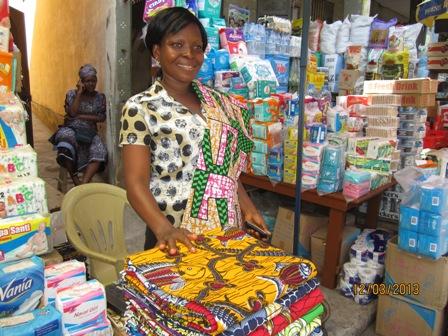 A pagne (traditional wrap around) retailer, Madame Amélévi is a young, 34 year old woman with no dependent children. She started her business in 2010 and enjoys her work as it brings in revenues, which allow her to take care of herself. She is no longer able to satisfy her clients due to a lack of merchandise, so she is asking for her first loan from WAGES in order to meet her goals. In the future, she hopes to be able to become a wholesaler and start a financially stable family.
Translated from French
View original language description ↓
Revendeuse de pagnes, madame Amélévi est une jeune dame de 34ans qui n'a pas d'enfants en charge. Démarré l'activité en 2010, Amélévi l'exerce avec joie car cela lui procure des revenus lui permettant de se prendre en charge. N'arrivant plus à satisfaire ses clients à cause du manque de marchandises, elle fait son premier crédit à WAGES pour atteindre ses objectifs. A l'avenir, elle espère devenir grossiste et fonder une famille financièrement stable.
Additional Information
About Women and Associations for Gain both Economic and Social
This loan is administered by Women and Associations for Gain both Economic and Social (WAGES), Togo's second-largest microfinance institution. Along with a wide range of savings and loan products, WAGES offers its clients training programs in basic literacy, health care (HIV/AIDS and malaria), and business-related subjects (business management, marketing, accounting). You can show your support for WAGES by joining its lending team!
Success!! The loan was 100% repaid
A loan of $1,000 helped Amélévi to buy pagnes (traditional wrap arounds).
17 months (Additional Information)
Monthly
Apr 11, 2013
Apr 20, 2013
Possible

Ended:

Jun 29, 2014