Check out some available loans that are similar to this one!
Ecuador

Retail

Funding via Cooperativa de Ahorro y Credito Mujeres Unidas (CACMU)

Ecuador

Retail

Funding via VisionFund Ecuador

Ecuador

Food

Funding via Cooperativa San Jose
Antonia Soraya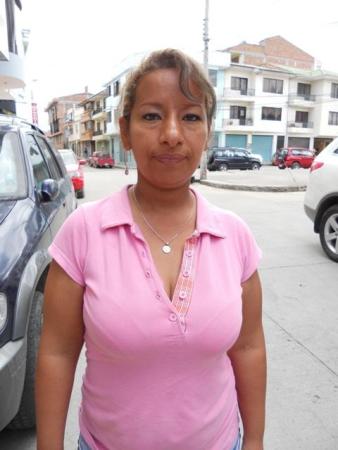 Update on Antonia Soraya
Antonia's a very active member of the "Mujeres con Visión" (Women with Vision) communal bank. She likes this communal bank because at each meeting she meets with her girlfriends and she can get out of her daily work routine. She lives in the city of Cuenca, a city with a rich history as well as beautiful colonial architecture. Its cuisine is a delight for locals and foreigners alike. Its people still keep their culture and traditions alive.

Antonia is 41-years-old, married and has had five children who are 20, 16, 14, and 10 years of age; her youngest is 6-months-old. Two of her children work, help with household chores and study; one in high school and the other one in the local little school. Her husband works as a private employee. She does not own a house; she rents.

Antonia works making and selling food in a small locale she has; she also sells cosmetics. These activities make it possible for her to improve her household's economic stability and move her entire family forward.

She used her previous loan to buy foodstuffs for her business and earned good profits from them. She's repeating the loan because she needs to buy foodstuffs, tables and chairs to improve her locale.
Translated from Spanish
View original language description ↓
La Señora Antonia es una socia muy activa que forma parte del banco comunal Mujeres con Visión, este banco comunal le gusta porque en cada reunión se encuentra con sus amigas y puede salir de su rutina diaria de trabajo. Vive en la ciudad de Cuenca, esta ciudad guarda una rica historia al igual que la belleza de su arquitectura colonial, su gastronomía cautiva el paladar de propios y extraños, su gente aun mantienen vivas su cultura y tradiciones.

Doña Antonia tiene 41 años de edad, es casada y fruto de su unión conyugal ha concebido 5 hijos de 20, 16, 14, 10 años de edad y su ultimo hijo de 6 meses de nacido, dos de sus hijos trabajan, ayudan en los quehaceres del hogar y estudian, uno estudia en el colegio y otro en una escuelita de la ciudad. Su esposo labora como empleado privado, no tienen casa propia por lo que viven arrendando.

Doña Antonia se dedica a la preparación y venta de comida en un pequeño local que tiene y también vende cosméticos, estas actividades le permiten mejorar la estabilidad económica de su hogar y sacar adelante a toda su familia.

Su crédito anterior lo invirtió en la compra de víveres para su negocio del cual obtuvo muy buenas ganancias. Esta repitiendo el crédito ya que necesita comprar víveres, mesas y sillas para mejorar su local.

Previous Loan Details
Antonia is undertaking her second loan with the "Mujeres con Visión" communal bank. She lives in the Totoracocha area of Cuenca, a city with a cold climate, and thanks to its architectural beauty, a World Heritage Site since December 1999. It has several places for enjoying nature, and its people... More from Antonia Soraya's previous loan »
Additional Information
Concurrent and Successive Loans
Our Field Partners often work with borrowers over a series of loans as the borrowers build credit, take out bigger loans, and expand their businesses. In order to make it easier for our Field Partners to post loans for borrowers who have been listed on Kiva before, we allow them to post successive and concurrent loans for their Kiva borrowers. This means that our Field Partners are able to post a borrower's second, third, etc., loan on Kiva without having to re-enter all of the borrower's information.
This borrower has been listed on Kiva before, so you'll see an updated loan description, as well as excerpts of the original descriptions from earlier loans. Most borrowers take out loans consecutively, meaning that they receive a second loan after having repaid the first. However, sometimes our Field Partners give out concurrent loans, allowing borrowers to take out one primary loan and a secondary "add-on" loan along with it. These "add-on" loans are typically smaller than the borrower's primary loan and serve a different purpose. Because Field Partners can now post loans as successive and concurrent loans, you will be able to track borrower progress over time and see the various ways a borrower is working with our Field Partners through funds from Kiva's lenders.
Success!! The loan was 100% repaid
A loan of $550 helped Antonia Soraya to buy foodstuffs, tables and chairs.
7 months (Additional Information)
Monthly
Apr 3, 2013
May 23, 2013
N/A

Ended:

Oct 21, 2013