Check out other loans that are currently fundraising!
Armenia

Services

Funding via SEF International

Kenya

Agriculture

Funding via One Acre Fund

Pakistan

Services

Funding via BRAC Pakistan
Carlos Antonio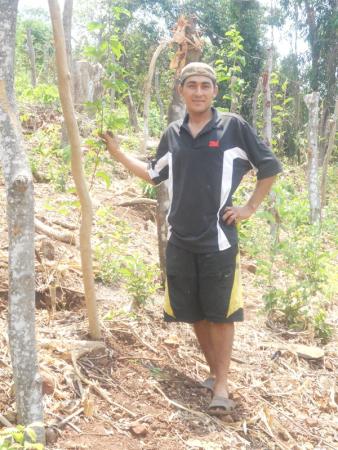 Update on Carlos Antonio
Carlos is requesting a new loan in order to start sowing and watering the crops and to get agricultural supplies. This will allow him to buy natural fertilizer, insecticides, herbicides, pesticides, and seeds.

With the last loan he improved the production and increased the profits. His financial situation improved. Thanks to this he managed to get some domestic appliances for his home, and he improved his house.
Carlos, solicita un nuevo crédito para empezar la siembra del cultivo de regadillo y adquirir los insumos agrícolas. Este le permitirá comprar abono, insecticidas, herbicidas, plaguicidas y semilla.
Con el préstamo anterior mejoro la producción y aumentaron las ganancias. Las condiciones económicas incrementaron, gracias a ello logro adquirir electrodomésticos para el hogar y mejorar la vivienda.

Previous Loan Details
Carlos works in agriculture, lives with his wife and has two children, who depend financially on him. With his produce from planting in two blocks of terrain, he feeds his family. By commercializing a part of his production, he is able to generate some income to cover other necessities. He also w... More from Carlos Antonio's previous loan »
Additional Information
Concurrent and Successive Loans
Our Field Partners often work with borrowers over a series of loans as the borrowers build credit, take out bigger loans, and expand their businesses. In order to make it easier for our Field Partners to post loans for borrowers who have been listed on Kiva before, we allow them to post successive and concurrent loans for their Kiva borrowers. This means that our Field Partners are able to post a borrower's second, third, etc., loan on Kiva without having to re-enter all of the borrower's information.
This borrower has been listed on Kiva before, so you'll see an updated loan description, as well as excerpts of the original descriptions from earlier loans. Most borrowers take out loans consecutively, meaning that they receive a second loan after having repaid the first. However, sometimes our Field Partners give out concurrent loans, allowing borrowers to take out one primary loan and a secondary "add-on" loan along with it. These "add-on" loans are typically smaller than the borrower's primary loan and serve a different purpose. Because Field Partners can now post loans as successive and concurrent loans, you will be able to track borrower progress over time and see the various ways a borrower is working with our Field Partners through funds from Kiva's lenders.
Success!! The loan was 100% repaid
A loan of $750 helped Carlos Antonio to buy natural fertilizer, insecticides, herbicides, pesticides, and seeds.
14 months (Additional Information)
Irregularly
Mar 19, 2013
Apr 10, 2013
N/A

Ended:

Apr 16, 2014