Check out some available loans that are similar to this one!
Ecuador

Food

Funding via Cooperativa de Ahorro y Credito Mujeres Unidas (CACMU)

Ecuador

Food

Funding via Fundación ESPOIR

Ecuador

Food

Funding via Fundación ESPOIR
Laura María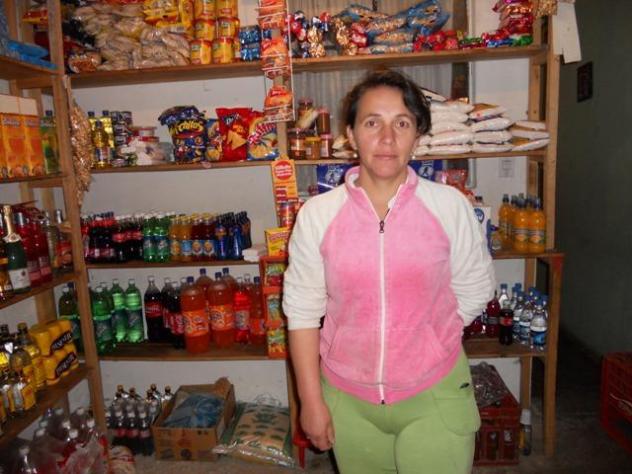 Update on Laura María
Sra. Laura has been an active member of the Communal Bank "La Merced" for some time. She lives in the parish of Santa Ana in Cuenca, a city that has an architectural mix of the ancient and the modern. From the central parish, one can admire all of the city of Cuenca. The people are friendly and kind.



Sra. Laura is 37 years old, married, and has four children (ages 16, 12, 9, and 6). The two older children are in high school and the two younger children attend an elementary school in their community. Her husband works as a private employee. They own the house in which they live.



Sra. Laura is a very hardworking woman. She has been managing a store for a few years and over time she added a bakery. Through her work, she has been able to improve the financial stability of her household and also help her family get ahead.



The money from this loan will be invested in the purchase of products for her bakery. She will be able to generate good earnings and pay off her loan without difficulty. Her new loan will be invested in the purchase of flour, eggs, and butter for making bread. She will also buy groceries for her store. Laura enjoys the unity, solidarity, and camaraderie that exists among all of the members of her Communal Bank group.
Translated from Spanish
View original language description ↓
La Señora Laura es socia activa desde hace algún tiempo del banco comunal La Merced. Vive por la parroquia Santa Ana en Cuenca, su arquitectura es una mezcla de lo antiguo y lo moderno, desde su centro parroquial se puede admirar la ciudad de Cuenca, su gente es amable y gentil.

La Señora Laura tiene 37 años, es casada y en su unión conyugal ha concebido 4 hijos de 16, 12, 9 y 6 años de edad, sus dos primeros hijos estudian en el colegio y sus dos últimos hijos estudian en una escuelita de la comunidad. Su esposo labora como empleado privado, la casa en la que viven es propia.

La Señora. Laura es una mujer muy trabajadora, se dedica a la atención de su tienda la cual tiene desde hace algunos años pero hace poco implemento en su tienda una panadería. Con su trabajo ayuda a mejorar la estabilidad económica de su hogar y así saca adelante a toda su familia.

El dinero de su crédito lo invirtió en la compra de productos para su panadería, de la cual ha obtenido buenas ganancias y a podido pagar su crédito sin dificultad. Su nuevo crédito va ha invertir en la compra de harina, huevos y mantequilla para la elaboración del pan y también víveres para su tienda. La banca comunal le gusta por la unión, solidaridad y compañerismo que existe entre todas las socias del grupo.

Previous Loan Details
Laura has belonged to La Merced communal bank for eight years. She lives in the neighbourhood of the parish of Santa Ana in Cuenca, a place surrounded by mountains that make for some beautiful landscapes. The weather is cold but the people's hearts are warm. The inhabitants work mainly in trade, ... More from Laura María's previous loan »
Additional Information
Concurrent and Successive Loans
Our Field Partners often work with borrowers over a series of loans as the borrowers build credit, take out bigger loans, and expand their businesses. In order to make it easier for our Field Partners to post loans for borrowers who have been listed on Kiva before, we allow them to post successive and concurrent loans for their Kiva borrowers. This means that our Field Partners are able to post a borrower's second, third, etc., loan on Kiva without having to re-enter all of the borrower's information.
This borrower has been listed on Kiva before, so you'll see an updated loan description, as well as excerpts of the original descriptions from earlier loans. Most borrowers take out loans consecutively, meaning that they receive a second loan after having repaid the first. However, sometimes our Field Partners give out concurrent loans, allowing borrowers to take out one primary loan and a secondary "add-on" loan along with it. These "add-on" loans are typically smaller than the borrower's primary loan and serve a different purpose. Because Field Partners can now post loans as successive and concurrent loans, you will be able to track borrower progress over time and see the various ways a borrower is working with our Field Partners through funds from Kiva's lenders.
Success!! The loan was 100% repaid
A loan of $975 helped Laura María to buy flour, eggs, and butter for baking, as well as groceries for her store.
8 months (Additional Information)
Monthly
Mar 14, 2013
May 1, 2013
N/A

Ended:

Oct 21, 2013
This photo was used before for a previous loan for Laura María. It was first posted on Kiva on Nov, 2012.
Learn More