Check out other loans that are currently fundraising!
Azerbaijan

Agriculture

Funding via Aqroinvest Credit Union

Palestine

Retail

Funding via Palestine for Credit & Development (FATEN)

Cambodia

Agriculture

Funding via KREDIT Microfinance Institution Plc.
Reina Concepción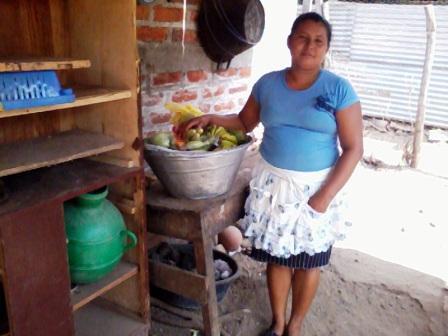 Reina is 27 years old and a single mother of two children. She separated from her husband because he mistreated her children, a 9-year-old boy and a 3-year-old girl. She makes a living selling fruits and vegetables walking from house to house with a basket. In addition, she carries out agricultural work. She cultivates 7,000 square meters of corn together with her brother. Also, she raises animals in her house, an activity that she learned from her parents.

Since 8 years old, she went out to sell tamales and traditional food. Her life has been very difficult since she was young, but she continues forward working for a better future for her children. She gets up at 4:00 a.m. to get her children ready and to take them to her mother's house so she can care for them while she goes to work.

The loan she is requesting from Fundacion Campo is to buy three young bulls to raise and to pay the rent on the land that she cultivates. With the investment, she will be able to have animals that she can sell when they are fat and fetch a good price, and she will have secured the land so she can continue cultivating. Her goal is for her children to study in the university since she did not have that opportunity, and to construct a protective wall around her house and to change the roof since it is very dilapidated.
Translated from Spanish
View original language description ↓
Reina tiene 27 años de edad, es madre soltera de dos hijos. Se separo de su esposo, debido a que la maltrataba sus hijos tienen nueve años y una niña de tres años. Ella se dedica a vender frutas y verduras de manera ambulante de casa en casa en un canasto. Además, realiza trabajos agrícolas, cultiva 7,000 metros cuadrados de maíz junto con su hermano. Así mismo, cría animales en su casa, esta actividad la aprendió de sus padres. Desde la edad de los ocho años, salía a vender tamales y platos típicos. Su vida ha sido muy difícil desde pequeña, pero sigue adelante trabajando por un futuro mejor para sus hijos. Se levanta a las 4:00 a.m. a preparar a sus hijos y llevarlos a la casa de su mamá para que los cuide, mientras tanto ella se va a trabajar.

El préstamo que esta solicitando a Fundación Campo, es para comprar tres toretes para repasto y pagar el alquiler del terreno en donde cultiva. Con la inversión, podrá contar con animales para trabajar y venderlos cuando estén gordos y paguen un buen precio por ellos y tendrá seguro el terreno para seguir cultivando. Su propósito, es que sus hijos estudien en la universidad, pues ella no tubo esa oportunidad y construir un muro de protección en su casa y cambiarle el techo; pues esta muy deteriorado.

Additional Information
About CrediCampo
This loan is administered by CrediCampo, a Kiva Field Partner in El Salvador. CrediCampo seeks to improve the lives of rural communities and their families in areas including health, education, basic services, and infrastructure. Through its Community Development Unit, CrediCampo provides scholarships, leadership development training, and financial education programs for families in rural areas. CrediCampo's work is crucial in addressing the issue of poverty in El Salvador. Based on 2009 estimates, 37.8% of the population lives below the poverty line. To learn more about CrediCampo and their work, visit their partner page.
Success!! The loan was 100% repaid
A loan of $1,000 helped Reina Concepción to buy three young bulls to raise and to pay rent on the land that she cultivates.
14 months (Additional Information)
At end of term
Mar 18, 2013
Mar 25, 2013
N/A

Ended:

Jan 17, 2014