Check out some available loans that are similar to this one!
Cambodia

Agriculture

Funding via KREDIT Microfinance Institution Plc.

Cambodia

Agriculture

Funding via VisionFund Cambodia

Cambodia

Agriculture

Funding via KREDIT Microfinance Institution Plc.
Sambath's Group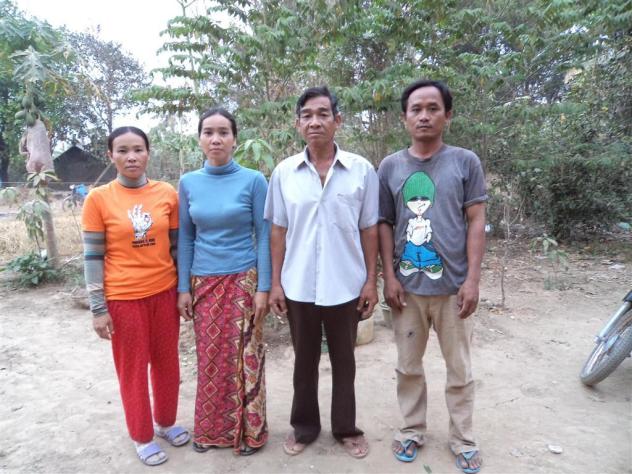 Sambath is 36 years old and a married mother of three schoolchildren. She resides in Sangke district of Battambang Province. She deals with her family's hardships through rice farming with support from her husband who uses his spare time to earn extra income via working for other for a fee. Her original loan with VisionFund (Kiva's partner) was three loan cycles ago. She has made good use of her previous loans to relieve the family's burden and keep up a good living standard gradually.

Now, she is leading a group of four to apply for a new loan. Her group's requested microloan with VisionFund is 4,000,000 KHR. Sambath whose loan portion is 1,400,000 KHR, will spend her loan portion to pay plowing fees for her farmland. She really hopes that she can double her income and better her living conditions.
Additional Information
About VisionFund Cambodia
VisionFund Cambodia is a Christian organization and microfinance institution that provides small loans and other financial services to improve the lives of children, empower poor women and their families, and grow successful businesses. The organization works primarily in rural parts of Cambodia and has distinguished itself by targeting the very poor who require smaller loan sizes, regardless of religious beliefs, gender or ethnic background.

Kiva lenders' funds will help the organization to expand into the northeastern provinces of the country, which have historically been underserved and difficult to reach with financial services.
This is a Group Loan
In a group loan, each member of the group receives an individual loan but is part of a larger group of individuals. The group is there to provide support to the members and to provide a system of peer pressure, but groups may or may not be formally bound by a group guarantee. In cases where there is a group guarantee, members of the group are responsible for paying back the loans of their fellow group members in the case of delinquency or default.
Kiva's Field Partners typically feature one borrower from a group. The loan description, sector, and other attributes for a group loan profile are determined by the featured borrower's loan. The other members of the group are not required to use their loans for the same purpose.
Success!! The loan was 100% repaid
A portion of Sambath's Group's $1,025 loan helped a member to pay plowing fees for farmland.
14 months (Additional Information)
Irregularly
Feb 21, 2013
Mar 25, 2013
Possible

Ended:

Mar 17, 2014