Check out some available loans that are similar to this one!
Shahnaz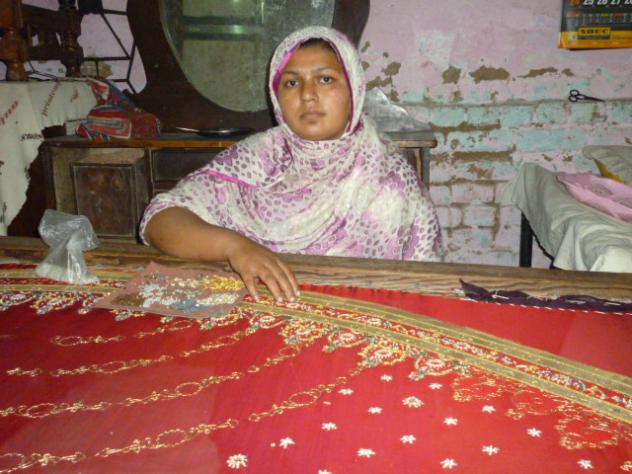 Ms. Shahnaz is a 28-year-old married woman who is living with her husband and four children in Punjab, Pakistan. For many years she has been in the work of hand-embroidery. She makes beautiful patterns for the people of her community. Her designs are much in demand, and she has managed to consolidate a clientele that allows her to contribute to the expenses of her home.

To help her to continue her operations, Shahnaz has requested a loan of Rs. 25,000 to buy reels of thread in different colors, with packs of sequins, beads and stones for embellishment. In this way, she would be able to cater to more customers consistently. She is hopeful to get an increase in her income by targeting more customers.

Shahnaz dreams of her children's bright future and desires to build her own house, as she is living in a rented house with her family. She is very much thankful to Kashf for its tremendous support.
Additional Information
About Kashf Foundation
Kashf Foundation is one of the leading microfinance providers in Pakistan, focused on expanding financial access for poor women across the country. The organization's economic empowerment program has grown from 913 clients in 1999 to 284,653 clients as of May 2012, with a current outstanding portfolio of US$32 million.

Kashf has trained over 227,000 clients in basic financial literacy and systemized financial education since 2010, in addition to providing training in gender justice and empowerment to over 12,500 participants since 2011. This group includes clients, their husbands and adolescent boys in their communities.

Over the past 16 years, Kashf has disbursed an estimated 2 million loans. Today, it operates in 16 districts in Punjab province and 1 district in Sindh province through a network of 157 branches. It plans to open 19 new branches to cover all four of Pakistan's provinces.
Success!! The loan was 100% repaid
A loan of $275 helped Shahnaz to buy reels of thread in different colors, with packs of sequins, beads and stones for embellishment.
14 months (Additional Information)
Monthly
Feb 22, 2013
Apr 1, 2013
Possible

Ended:

Mar 21, 2014