Check out some available loans that are similar to this one!
Congo (Dem. Rep.)

Food

Funding via Hekima, a partner of World Relief

Congo (Dem. Rep.)

Food

Funding via Hekima, a partner of World Relief

Congo (Dem. Rep.)

Food

Funding via Hekima, a partner of World Relief
Karibu Group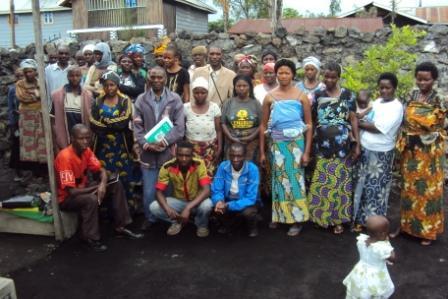 Cimwemwesa is the vice-president of the Karibu group. She is a young, 26-year-old entrepreuneur and the mother of 2 children. Her spouse is a small retailer and she is a teacher. She also sells palm oil. She started her business with funds she received from a family member. This new loan will allow her to buy 2 cans of oil. She would like to thank Hekima for its financial support.

Note: some customers are holding their babies in the picture.
Cimwemwesa est vice présidente du groupe Karibu, jeune entrepreneur, âgée de 26 ans et mère de 2 enfants. Son conjoint est un petit commerçant. La cliente est une enseignante. En plus, elle est aussi vendeuse d'huile de palme. Elle commença avec un fonds reçu d'un membre de sa famille. Ainsi, ce nouveau crédit va lui servir d'acheter 2 bidons d'huile. Au finish, elle remercie Hekima pour son soutien financier. Il sied de signaler que certaines clientes portent leurs bebes.
Additional Information
Important Information
HEKIMA is a microfinance institution headquartered in Goma, Democratic Republic of the Congo (DRC), with branch offices in Goma and Bukavu. HEKIMA aims to contribute to the transformation of the economic, social, and spiritual lives of the economically active poor of the DRC. To this end, HEKIMA provides its clients with solidarity group loans to support income-generating activities. Despite ongoing instability and violence in its operating areas, HEKIMA continues to keep its doors open and provide credit and savings services for its over 90% female clientele.
This is a Group Loan
In a group loan, each member of the group receives an individual loan but is part of a larger group of individuals. The group is there to provide support to the members and to provide a system of peer pressure, but groups may or may not be formally bound by a group guarantee. In cases where there is a group guarantee, members of the group are responsible for paying back the loans of their fellow group members in the case of delinquency or default.
Kiva's Field Partners typically feature one borrower from a group. The loan description, sector, and other attributes for a group loan profile are determined by the featured borrower's loan. The other members of the group are not required to use their loans for the same purpose.
Success!! The loan was 100% repaid
A portion of Karibu Group's $1,550 loan helped a member to buy 2 cans of oil.
6 months (Additional Information)
Monthly
Mar 5, 2013
Mar 11, 2013
N/A

Ended:

Aug 17, 2013