Check out some available loans that are similar to this one!
Hugo Miguel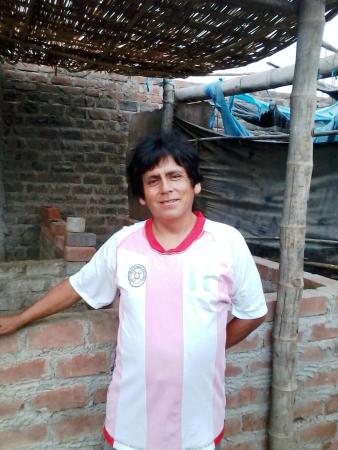 Hugo, 38, lives in the warm and lively city of Chincha. Hugo has been hard-working since he was young, since his parents had few economic resources and he needed to support them. This is why he was only able to finish the fifth year of secondary school, but he would like to have gotten a university degree. Every day, Hugo works in his small business buying and selling cattle and pigs. Every morning, he gets up very early to feed his animals and clean the space where he raises them. He believes things are going well for him in his business because he is very dedicated and above all, he likes what he does.

Hugo is very grateful to the Kiva lenders, because thanks to the help that they have given him, he will be able to buy animals like cows, pigs, and lambs, among others. He will also buy feed. This way, he will be able to increase his income and keep fighting to make his greatest dream a reality: "To build his parents a house out of quality materials since they currently live in an adobe house."
Translated from Spanish
View original language description ↓
Hugo tiene 38 años de edad, vive en la cálida y alegre ciudad de Chincha. Hugo desde muy joven es muy trabajador, ya que sus padres tenían pocos recursos económicos y tenía la necesidad de apoyarlos, es por ello que solo pudo estudiar hasta el quinto grado de secundaria, pero le hubiera gustado estudiar una carrera universitaria.

Día a día Hugo trabaja en su pequeño negocio de compra y venta de ganado vacuno y cerdos, cada mañana el se levanta muy temprano ´para poder darles los alimentos a sus animales y limpiar el espacio donde los cría, es por ello que el cree que le va bien en su negocio porque es muy dedicado y sobre todo le gusta lo que hace.

Hugo está muy agradecido con los prestatarios Kiva ya que gracias a la ayuda que le han brindado el podrá comprar animales como vacas, cerdos, corderos, entre otros, así como también comprar alimentos balaceados, de esta manera el podrá mejorar sus ingresos y seguir luchando para poder hacer realidad su más grande sueño:" Construir la casa de sus padres de material noble ya que actualmente viven en una vivienda de adobe".

Additional Information
About Caja Rural Señor de Luren
Caja Rural Señor de Luren is a microfinance institution based in Ica in southern Peru that primarily promotes the development of the country's agricultural sector through lending. Today, it also offers credit for consumers, microenterprises and housing improvements, and has expanded its financial services to promote micro-savings and provide micro-insurance. This institution has been instrumental in helping borrowers recover from the devastating earthquake in the Ica region in 2007, and works with Peru's National Bank to reach some of the poorest and most remote microfinance clients in the country.
Success!! The loan was 100% repaid
A loan of $600 helped Hugo Miguel to buy animals (pigs, cows, and lambs, among others) and animal feed.
14 months (Additional Information)
Monthly
Feb 7, 2013
Feb 19, 2013
Possible

Ended:

Sep 17, 2013