Check out some available loans that are similar to this one!
Indonesia

Agriculture

Funding via Koperasi Mitra Usaha Kecil (MUK)

Indonesia

Agriculture

Funding via Koperasi Mitra Usaha Kecil (MUK)

Indonesia

Services

Funding via PT Rekan Usaha Mikro Anda (Ruma)
Daya Pertiwi Group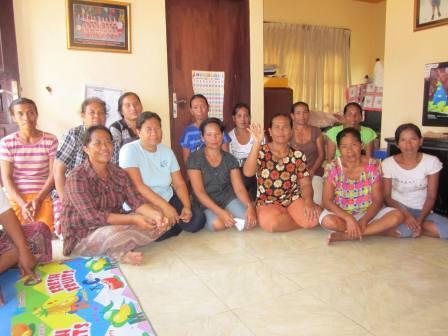 Update on Daya Pertiwi Group
Daya Pertiwi Group got a loan for the 8th time; the number of members totals 15, and the total loan is for 30M IDR. Having been successful with pig fattening, Dewa Ayu will use this loan to purchase four types of local pigs for pork roll; the pigs will be maintained for two months. The remainder of the loan will be used to fix the cage for the preparation of a new birth from the sow that she already owns. The price of pig feed is currently very expensive, but she remains optimistic about this business going forward. With all the benefits she receives, she plans to repair the home and also save for the future of her family.
Previous Loan Details
After successfully repaying the previous loan, Dewa Ayu and the Daya Pertiwi group decided to continue the loan, with each getting 2M IDR (Indonesian rupiahs). She has full support from her husband because it is considered beneficial to the family economy. Dewa Ayu, who has two children, plans... More from Daya Pertiwi Group's previous loan »
Additional Information
More information about this loan
This loan is part of MUK's effort to reach small business owners in rural areas of Bali in Indonesia. Borrowers often lack collateral to be eligible for working capital loans and are located in areas where access to microfinance is limited. MUK organizes borrowers into groups that cross guarantee one another, allowing them to qualify for a loan. By funding this loan you are providing underserved borrowers with crucial capital to sustain their existing businesses.
About Koperasi Mitra Usaha Kecil (MUK)
This loan is serviced by Koperasi Mitra Usaha Kecil (MUK), a microfinance cooperative headquartered in West Bali, Indonesia. MUK's mission is to provide chronically poor people in Bali with opportunities to improve their lives, while raising social awareness of economic and environmental issues.
Most MUK clients live in rural settings on less than $1.25 per day. MUK's financial products are targeted to clients' productive activities including small businesses, farming, and livestock rearing. MUK supports clients with training in household budgeting, livestock rearing, and small business management.
MUK provides services to clients of all races and religions. For more information about MUK, please visit its partner page. Also, consider joining MUK's Kiva lending team, Friends of Mitra Usaha Kecil.
Concurrent and Successive Loans
Our Field Partners often work with borrowers over a series of loans as the borrowers build credit, take out bigger loans, and expand their businesses. In order to make it easier for our Field Partners to post loans for borrowers who have been listed on Kiva before, we allow them to post successive and concurrent loans for their Kiva borrowers. This means that our Field Partners are able to post a borrower's second, third, etc., loan on Kiva without having to re-enter all of the borrower's information.
This borrower has been listed on Kiva before, so you'll see an updated loan description, as well as excerpts of the original descriptions from earlier loans. Most borrowers take out loans consecutively, meaning that they receive a second loan after having repaid the first. However, sometimes our Field Partners give out concurrent loans, allowing borrowers to take out one primary loan and a secondary "add-on" loan along with it. These "add-on" loans are typically smaller than the borrower's primary loan and serve a different purpose. Because Field Partners can now post loans as successive and concurrent loans, you will be able to track borrower progress over time and see the various ways a borrower is working with our Field Partners through funds from Kiva's lenders.
This is a Group Loan
In a group loan, each member of the group receives an individual loan but is part of a larger group of individuals. The group is there to provide support to the members and to provide a system of peer pressure, but groups may or may not be formally bound by a group guarantee. In cases where there is a group guarantee, members of the group are responsible for paying back the loans of their fellow group members in the case of delinquency or default.
Kiva's Field Partners typically feature one borrower from a group. The loan description, sector, and other attributes for a group loan profile are determined by the featured borrower's loan. The other members of the group are not required to use their loans for the same purpose.
Success!! The loan was 100% repaid
A portion of Daya Pertiwi Group's $3,125 loan helped a member to purchase four types of local pigs.
8 months (Additional Information)
At end of term
Feb 14, 2013
Feb 19, 2013
Possible

Ended:

Sep 17, 2013