Check out some available loans that are similar to this one!
Fatuma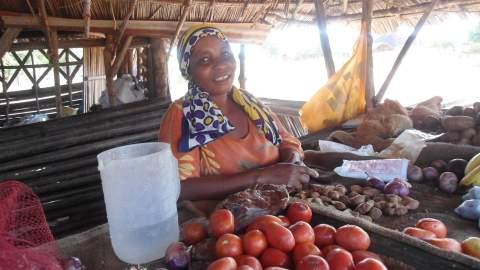 Fatuma is 33 years old and married with two children, both of whom attend school.

Fatuma operates a small stall that she opened in the market; she sells all kinds of products including lettuce, tomatoes, onions, carrots, etc. She has been in retail businesses for six years.

She has very good sales, thanks to the location of her stall. People come to the market every day to buy necessities, while others that work in the area come to eat lunch in the market's restaurants.

Her work day begins at 5 AM daily, to be ready to open the stall at 6 AM.

She needs a loan to be able to stock the stall with more seasonal products such as onions, potatoes, and tomatoes, along with eggs and chicken.
Additional Information
About Yehu Microfinance Trust
This loan is administered by Yehu Microfinance Trust, which was founded in 1998 as a project of CHOICE Humanitarian Kenya. In July 2007, Yehu became a separate entity from CHOICE and was registered as a trust. Since then, Yehu has expanded to cover over half of Kenya's 13 coastal districts.
Success!! The loan was 100% repaid
A loan of $350 helped Fatuma to stock the food stall with more seasonal products, such as onions, potatoes, tomatoes, eggs, and chicken.
11 months (Additional Information)
Monthly
Feb 15, 2013
Feb 18, 2013
Possible

Ended:

Nov 17, 2013