Check out some available loans that are similar to this one!
El Salvador

Transportation

Funding via CrediCampo

El Salvador

Agriculture

Funding via Apoyo Integral

El Salvador

Agriculture

Funding via CrediCampo
Ricardo Antonio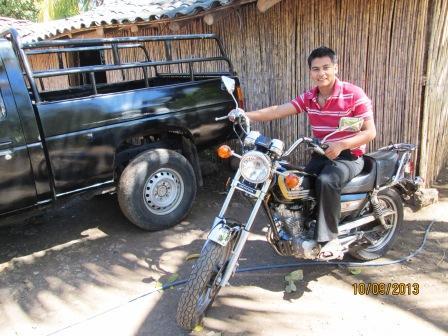 Ricardo is 21-years-old and is with someone. He is a student and has gained work experience in a financial institution. He requested to work there and they will give him a job, but he has to complete with the requirement that he must have a motorcycle. He bought the motorcycle from his friend.

The loan requested to Fundacion Campo (Foundation Camp) will be used to finish paying the motorcycle bought from his friend. In this way he will be able to fulfill the requirement that he needs to work. With the salary that they pay him, he can help his parents to build their own home.
Translated from Spanish
View original language description ↓
Ricardo tiene 21 años de edad, esta acompañado. Él es estudiante, realizo sus practicas es una institución financiera y ha solicitado trabajo ahí mismo y le darán el empleo. Pero tiene que cumplir con el requisito que debe poseer motocicleta y la compro a un amigo.

El préstamo que esta solicitando a Fundación Campo, es para terminar de pagar la motocicleta que le compro a su amigo. De esta manera cumplirá con el requisito que le solicitan para trabajar y con el sueldo que le paguen piensa en ayudarles a sus padres y construir su propia casa.


Additional Information
About CrediCampo
This loan is administered by CrediCampo, a Kiva Field Partner in El Salvador. CrediCampo seeks to improve the lives of rural communities and their families in areas including health, education, basic services, and infrastructure. Through its Community Development Unit, CrediCampo provides scholarships, leadership development training, and financial education programs for families in rural areas. CrediCampo's work is crucial in addressing the issue of poverty in El Salvador. Based on 2009 estimates, 37.8% of the population lives below the poverty line. To learn more about CrediCampo and their work, visit their partner page.
Success!! The loan was 100% repaid
A loan of $1,000 helped Ricardo Antonio to finish paying the motorcycle that he bought from a friend.
14 months (Additional Information)
Irregularly
Jan 26, 2013
Feb 1, 2013
N/A

Ended:

Aug 18, 2013