Check out some available loans that are similar to this one!
Peru

Clothing

Funding via Edpyme Alternativa

Peru

Food

Funding via Asociación Arariwa

Peru

Retail

Funding via Asociación Arariwa
Mujeres Exitosas Group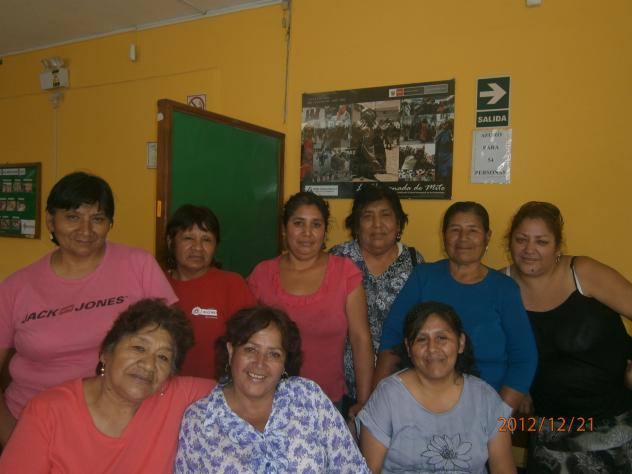 This is the "Mujeres Exitosas" (Successful Women) group, made up of nine hardworking women that have demonstrated responsibility and solidarity with their other members during their time together in the Prosperity Program.

Flora, a member of this group, is a 57-year-old, single woman. She is pictured above in the back row. She is the first woman from the left, wearing a pink polo shirt. Flora makes a living selling baby clothes. The business has allowed her to support the nieces and nephews in her care in their studies. Her biggest dream is to open a shop from which to sell her products. Flora will use her loan to buy baby clothes.

The Successful Women group is very happy and grateful for the help Kiva has offered them.
Translated from Spanish
View original language description ↓
Este es el grupo "Mujeres Exitosas" conformada por 09 socias trabajadoras que han demostrado durante el tiempo que participan con el Programa- Prosperidad responsabilidad y solidaridad con sus compañeras. Flora una de las integrantes tiene 57 años y es soltera. Ella se dedica a la venta de ropas para bebes. Este negocio le ha permitido apoyar a sus sobrinos con sus estudios ya que se encuentran a su cargo. Habilitar un espacio donde pueda ofrecer sus productos es su mayor deseo. Su último crédito los destino para la compra de prendas para bebes. Flora se encuentra ubicada en la parte posterior es la primera del lado izquierdo viste polo rosado. El grupo "Mujeres Exitosas" se siente feliz y agradece a Kiva por la ayuda brindada.
Additional Information
About EDAPROSPO
EDAPROSPO seeks to use micro-credit to foster productive commercial activity for the sake of economic and social development within vulnerable urban and rural sectors traditionally neglected by commercial banks. By offering innovative products such as technical education loans and microfinance groups for young people, EDAPROSPO helps disadvantaged Peruvians lift themselves out of poverty.
This is a Group Loan
In a group loan, each member of the group receives an individual loan but is part of a larger group of individuals. The group is there to provide support to the members and to provide a system of peer pressure, but groups may or may not be formally bound by a group guarantee. In cases where there is a group guarantee, members of the group are responsible for paying back the loans of their fellow group members in the case of delinquency or default.
Kiva's Field Partners typically feature one borrower from a group. The loan description, sector, and other attributes for a group loan profile are determined by the featured borrower's loan. The other members of the group are not required to use their loans for the same purpose.
Success!! The loan was 100% repaid
A portion of Mujeres Exitosas Group's $3,725 loan helped a member to buy baby clothes.
8 months (Additional Information)
Monthly
Dec 22, 2012
Feb 1, 2013
Possible

Ended:

Jul 17, 2013