Check out some available loans that are similar to this one!
Bolivia

Retail

Funding via IMPRO

Bolivia

Retail

Funding via Emprender

Bolivia

Retail

Funding via IMPRO
Fatima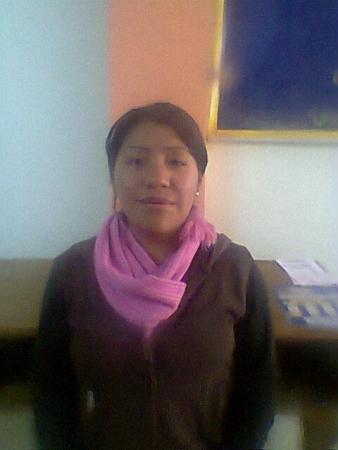 Fátima' single and has no children. She lives in her parents' house located in the city of El Alto's Río Seco zone. She attended secondary school and currently manages her older sister's Internet access service; she's also a partner with her sister selling cosmetics via catalog. The loan she needs is to buy cosmetics and beauty products to become part of the cosmetics firm as an independent consultant; her income will increase this way. Fátima's dream is to have a store where she can sell a variety of cosmetics and jewelry. This is the first time she's asked for credit from IMPRO and KIVA.
Translated from Spanish
View original language description ↓
Fátima, es soltera no tiene hijos, viven en casa de sus padres, la casa se encuentra ubicada en la zona Rio Seco de la ciudad de El Alto.
Ella estudio hasta el nivel secundario y actualmente atiende el Internet de su hermana mayor, además es socia con su hermana ya que venden productos por catálogos.

El crédito lo requiere para comprar cosméticos y productos de belleza y formar parte de la empresa de cosméticos pero esta vez como promotora independiente, así sus ingresos aumentaran.

El sueño de Fátima es tener una tienda donde pueda ofrecer una variedad de cosméticos y joyas.

Es la primera vez que solicita crédito junto a IMPRO y la primera vez con KIVA.

Additional Information
About IMPRO
IMPRO is a small non-profit organization that has been offering micro credit to the working poor in the Bolivian cities of La Paz and El Alto since 1995. IMPRO's goal is to fight poverty by offering loans to small business owners who cannot access credit through the regular banking system due to a lack of guarantees or collateral.

To ensure that everyone has access to credit, IMPRO maintains a low interest rate by minimizing operational costs. IMPRO's partnership with Kiva, which began in 2007, has allowed IMPRO to expand its services while maintaining these low interest rates.
Success!! The loan was 100% repaid
A loan of $250 helped Fatima to buy cosmetics.
12 months (Additional Information)
Monthly
Jan 10, 2013
Jan 17, 2013
N/A

Ended:

Dec 17, 2013