Check out other loans that are currently fundraising!
Kenya

Food

Funding via Kenya ECLOF

Pakistan

Services

Funding via Jinnah Welfare Society (JWS)

Paraguay

Agriculture

Funding via Fundación Paraguaya
Yanaturo Alto (Cuenca) Group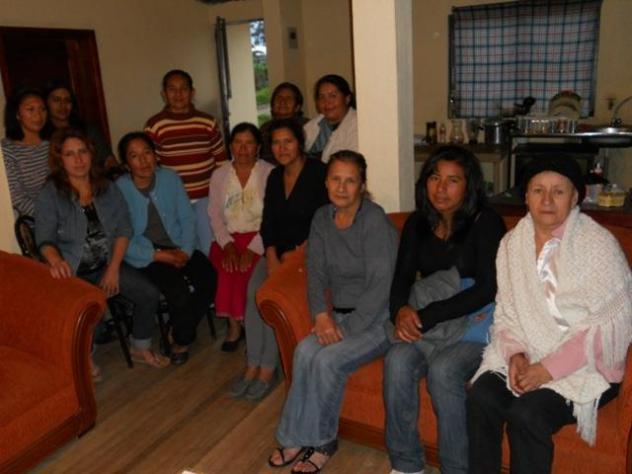 The Yanaturo Alto communal bank is made up of 13 ladies who are friends and neighbors. The communal bank has helped to solidify their friendship. All of the women are hardworking and every day try to better the financial stability in their homes.

They live in the Yanaturo of the City of Cuenca. Economically this is the third most important city in the country and has been a World Heritage Site since December of 1999. Its people are friendly, gentle, have warm hearts and continue their culture and traditions.

María Delfina lives in the Floresta sector in Cuenca and is getting a second loan from the Yanaturo Alto communal bank.

María Delfina is 37 years old, married, and has five children, ages 20, 18, 12, 8, and 6. Her oldest son works and helps out financially. Her a oldest daughter helps in the home and her next youngest attends high school. Her three youngest attend local schools. Her husband works as for a private company and they all live in a rented home.

María Delfina works Monday through Friday cleaning offices and classrooms at a university. She's been doing this for six years and she likes it because she gets a steady salary. Since she is an enterprising woman, she will use the money from this loan to buy chickens to begin this business.

Her goal is to have her own business, such as a store, and also to have a cart so she can sell meat on a stick.
Translated from Spanish
View original language description ↓
El banco comunal Yanaturo Alto está formado por 13 mujeres quienes son vecinas y amigas, con el banco comunal han afianzado y estrechado más su amistad, todas son mujeres trabajadoras, luchadoras que día a día tratan de mejorar la estabilidad económica de sus hogares. Viven por el sector de Yanaturo en la ciudad de Cuenca, esta ciudad es la tercera de mayor importancia económica del país, es desde Diciembre de 1999 Patrimonio Cultural de la Humanidad, su gente son personas amables, gentiles y de un corazón cálido, aun mantienen vivas las llamas de su cultura y tradiciones.

La Señora. María Delfina se encuentra realizando el segundo crédito en el banco comunal Yanaturo Alto, vive por el sector de la Floresta en la ciudad de Cuenca.

La Señora María Delfina tiene 37 años de edad, es una mujer casada y en su unión conyugal ha concebido 5 hijos de 20, 18, 12, 8 y 6 años de edad, su primer hijo se dedica a trabajar y le ayuda económicamente, su segunda hija pasa en casa ayudando con los quehaceres de la casa, su tercera hija estudia en el colegio y sus dos últimos hijos estudian en una escuelita de la ciudad. Su esposo labora como empleado privado, la casa en la que viven es arrendada.

Doña María Delfina trabaja de lunes a viernes en la limpieza de las oficinas y aulas de una universidad, se dedica a esta actividad desde hace 6 años y le gusta este trabajo porque recibe un sueldo estable.

Como es una mujer emprendedora este crédito lo va a invertir en la compra de pollos para empezar con este negocio.

Su meta es tener su negocio propio como una tienda y también tener una carreta para vender carne en palito







Additional Information
This is a Group Loan
In a group loan, each member of the group receives an individual loan but is part of a larger group of individuals. The group is there to provide support to the members and to provide a system of peer pressure, but groups may or may not be formally bound by a group guarantee. In cases where there is a group guarantee, members of the group are responsible for paying back the loans of their fellow group members in the case of delinquency or default.
Kiva's Field Partners typically feature one borrower from a group. The loan description, sector, and other attributes for a group loan profile are determined by the featured borrower's loan. The other members of the group are not required to use their loans for the same purpose.
Success!! The loan was 100% repaid
A portion of Yanaturo Alto (Cuenca) Group's $5,950 loan helped a member to buy chickens.
9 months (Additional Information)
Monthly
Dec 26, 2012
Feb 1, 2013
N/A

Ended:

Aug 17, 2013