Check out some available loans that are similar to this one!
Mabel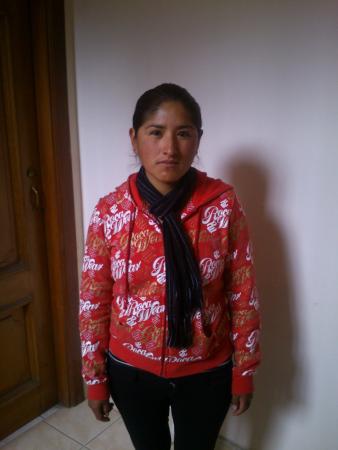 Sra. Mabel is 24 years old. She sells petticoats and women's skirts. Her shop is located in the District of Los Rosales.



This is her second loan with Emprender. Sra. Mabel will use the loan to buy petticoats and skirts in bulk so that she can restock her business. The date of her neighborhood's anniversary is approaching and she has many sales during that time. Her reason for requesting this loan is so that she can increase her operating capital. Sra. Mabel faces challenges in her business, such as having to restock her merchandise. She will utilize the benefits of this loan and continue to buy in bulk.
Translated from Spanish
View original language description ↓

La Sra. Mabel tiene 24 años, ella se dedica a la venta de enaguas y polleras para mujeres de polleras, tu tienda se encuentran en la zona Los Rosales, este préstamo es su segunda secuencia dentro la institución, La Sra. Mabel va a usar este préstamo para la compra enaguas y polleras por mayor para surtir su negocio ya que por esta fechas que se acerca el aniversario del barrio y tiene mucha venta, su razón para solicitar este préstamo es incremento de capital de trabajo, La Sra. Mabel enfrenta retos en su negocio que son surtir su mercadería y va a utilizar los beneficios e seguir comprando por mayor.

Additional Information
About Emprender
Emprender has been working in Bolivia since 1999. It is dedicated to becoming a key tool in the development of its clients and the improvement of their quality of life. Operating in three of Bolivia's major cities – La Paz, Cochabamba, and Santa Cruz – Emprender offers both urban and rural clients the opportunity to obtain financial products tailored to fit their needs and businesses. These products include housing loans, salary loans, "opportunity" (short-term) loans, and higher education loans. To better the quality of life for its clients and non-clients through non-financial services, Emprender offers free medical consultations and health classes given by trained doctors.
Success!! The loan was 100% repaid
A loan of $525 helped Mabel to buy petticoats and skirts in bulk.
12 months (Additional Information)
Monthly
Dec 6, 2012
Jan 7, 2013
Possible

Ended:

Nov 17, 2013