Check out other loans that are currently fundraising!
Rosa Haydee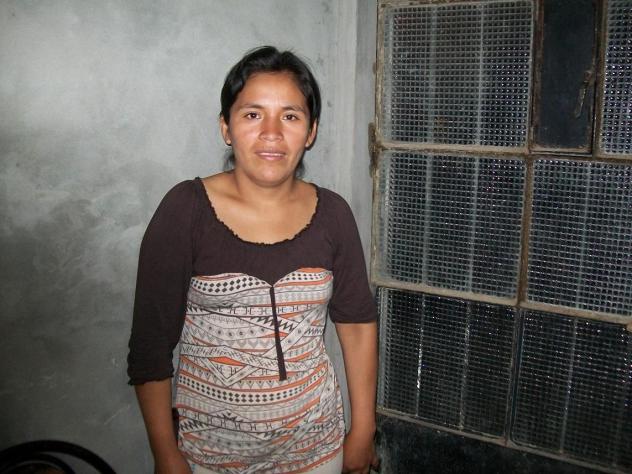 Rosa is a 32-year-old woman. She lives in the city of Ica in the district of Santiago with her husband and two small daughters, who she loves and are her main reason for living. She is a very kind, hard-working and enthusiastic person who, together with her husband, dedicates all her efforts to getting their family ahead. Unfortunately, when she was little she suffered the loss of her mother. Since then she has devoted herself to supporting her father and brothers. Due to that and the need to work, she wasn't able to study the professional career of obstetrics that she so wanted but she would have liked very much to have been able do so. In her free time she likes to pamper her family, inviting them to eat the delicious "Pollo a la Brasa" (a traditional Peruvian grilled chicken dish), which is a favorite dish of theirs.

On her own initiative, with a lot of effort and dedication, Rosa works in the fields on a large agricultural farm in her city. She works every day from the early hours of the morning and can do it for approximately eight hours. She feels comfortable doing her job and believes that it is going well for her because of her good performance and because of her kind treatment of others.

Rosa is very grateful to the Kiva lenders since thanks to the help provided she will be able to carry out some home improvements, as she wants to be able to plaster, paint and lay down a concrete floor in the room of her daughters. In this way she will be able to provide them with a suitable environment, with better security and comfort for them. Thus Rosa will continue working and striving to achieve her great dream of seeing her daughters become good professionals.
Rosa es una mujer de 32 años, vive en la ciudad de Ica, en el distrito de Santiago con su esposo y sus 2 pequeñas hijas, a quienes ama y son su principal razón en la vida, ella es una persona muy amable, trabajadora y entusiasta, que junto con su esposo dedican todos sus esfuerzos por sacar adelante a su familia; lamentablemente cuando era pequeña sufrió la pérdida de su madre, desde entonces ella se dedico a apoyar a su padre y hermanos, debido a ello y la necesidad de trabajar, no pudo estudiar la carrera profesional de Obstetricia que tanto deseaba, pero le hubiera gustado mucho poder hacerlo, en sus ratos libres le gusta engreír a su familia invitándolos a comer un riquísimo Pollo a la Brasa, el cual es el plato favorito de ellos.
Por iniciativa propia, con mucho empeño y dedicación, Rosa trabaja como obrera de campo en un fundo agrícola de su ciudad, ella trabaja todos los días desde tempranas horas de la mañana y puede hacerlo por un aproximado de 8 horas, ella se siente a gusto realizando su labor y cree que le va bien por su buen desempeño y por el trato amable que brinda a los demás.
Rosa se encuentra muy agradecida con los prestamistas Kiva, ya que gracias a la ayuda brindada podrá realizar el mejoramiento de su vivienda, ya que ella desea poder hacer el tarrajeo, pintado y puesta del piso de concreto en la habitación de sus pequeñas, de esta manera podrá brindarles un ambiente adecuado, con mayor seguridad y bienestar para ellas; así pues Rosa seguirá trabajando y esforzándose para lograr su gran sueño de ver a sus hijas convertidas en buenas profesionales.

Additional Information
About Caja Rural Señor de Luren
Caja Rural Señor de Luren is a microfinance institution based in Ica in southern Peru that primarily promotes the development of the country's agricultural sector through lending. Today, it also offers credit for consumers, microenterprises and housing improvements, and has expanded its financial services to promote micro-savings and provide micro-insurance. This institution has been instrumental in helping borrowers recover from the devastating earthquake in the Ica region in 2007, and works with Peru's National Bank to reach some of the poorest and most remote microfinance clients in the country.
About Housing Loans
Many poor families cannot afford housing that meets their needs. When you make a housing loan on Kiva, you give people access to flexible capital to obtain or improve their homes. Better housing means better health, sanitation, and even educational outcomes for children. A house can also be much more for entrepreneurs who run businesses out of their homes. In this way, housing and small business loans on Kiva share a common purpose: to alleviate poverty and enable families to enjoy more stable lives.
Success!! The loan was 100% repaid
A loan of $400 helped Rosa Haydee to make home improvements.
12 months (Additional Information)
Monthly
Oct 27, 2012
Jan 1, 2013
Possible

Ended:

Sep 17, 2013