Check out some available loans that are similar to this one!
Nicaragua

Agriculture

Funding via ADIM (Asociación Alternativa Para el Desarrollo Integral de las Mujeres)

Nicaragua

Services

Funding via MiCredito

Nicaragua

Retail

Funding via ADIM (Asociación Alternativa Para el Desarrollo Integral de las Mujeres)
Banco Comunal En Dios Confiamos Group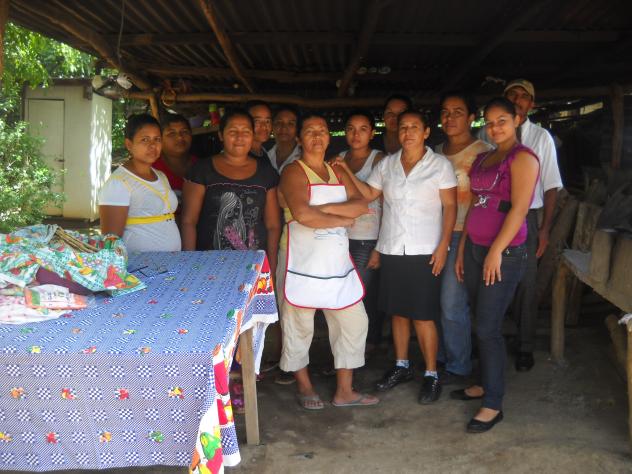 Update on Banco Comunal En Dios Confiamos Group
The En Dios Confiamos Communal Bank is made up of 12 members, all married adults with 30 dependent children among them. These members are natives of Malpaisillo, which is located in the northern part of the country.

These people are known to be responsible in their loan payments and have demonstrated their moral character by paying on time. Luisa Yhoana is the coordinator of the group and is entrusted with seeing to it that each member is responsible and of motivating them to support each other in their economic endeavors.

Luisa raises and sells live pigs, a business that is located at her home. She has both fixed and casual customers. She is requesting funding to invest in working capital and purchase a batch of pigs, which is being offered at a good price. She is doing this to satisfy her customers' demands and improve her income.

Luisa Yhoana is grateful for the help that Kiva lenders provide to people with scarce resources and to poor countries such as Nicaragua so that its citizens can have decent livelihoods
Translated from Spanish
View original language description ↓
El banco comunal en Dios Confiamos esta conformado por 12 integrantes, todos mayores de edad casados, con 30 hijos bajo su responsabilidad. Estos integrantes son originarios de Malpaisillo, lugar que se encuentra en la zona norte de país. Este personas se han caracterizado por ser responsables en sus pagos en los créditos demostraron su calidad moral de pago en tiempo y forma. En el caso de Luisa Yhoana es la coordinadora del banco la cual se encarga de velar por la responsabilidad de cada uno de los integrantes y motivarlos a apoyarse mutuamente en sus diferentes actividades económicas. Luisa tiene por actividad económica la crianza y venta de cerdos en pie, negocio lo tiene ubicado en su casa de habitación y ha logrado tener clientes fijos y eventuales. Luisa esta solicitando el financiamiento para invertir en capital de trabajo y compra un lote de cerdos que se lo están ofreciendo a buen precio. Esto con el objetivó de satisfacer la demanda de sus clientes y mejorar sus ingresos. Luisa Yhoana agradece la ayuda que los inversionistas kiva les brindan a personas de escasos recursos y países pobre como es Nicaragua para tener un medio de vida digno.
Previous Loan Details
The Communal Bank "En Dios Confiamos" (In God We Trust) consists of Yanira, Maria Matilde, Francela, Dora Maria, Pabla Cecilia, Brenda de Los Ángeles, and Onan. Together they strive to move forward every day. Yanira has been selling tortillas for more than two years. She is a responsible ... More from Banco Comunal En Dios Confiamos Group's previous loan »
Additional Information
Fundación Leon 2000
This loan is administered by Fundación Leon 2000. Fundación Leon 2000 began operations in 1993 as the first microfinance institution to serve the western part of Nicaragua, a country which continues to be one of the poorest in the western hemisphere. Fundación Leon 2000 works to further the development of micro, small, and medium enterprises through credit services and management, applying the best credit industry practices and technical expertise. Additionally, Fundación Leon manages several business and financial education programs in the community, specifically for young entrepreneurs and at-risk youth. Fundación Leon 2000's group of experienced and dedicated employees works in 7 offices in Leon, Chinandega, Chichigalpa, Somotillo, Jinotepe, El Sauce, and Nagarote and serves several thousand clients (the majority of whom are women).
Concurrent and Successive Loans
Our Field Partners often work with borrowers over a series of loans as the borrowers build credit, take out bigger loans, and expand their businesses. In order to make it easier for our Field Partners to post loans for borrowers who have been listed on Kiva before, we allow them to post successive and concurrent loans for their Kiva borrowers. This means that our Field Partners are able to post a borrower's second, third, etc., loan on Kiva without having to re-enter all of the borrower's information.
This borrower has been listed on Kiva before, so you'll see an updated loan description, as well as excerpts of the original descriptions from earlier loans. Most borrowers take out loans consecutively, meaning that they receive a second loan after having repaid the first. However, sometimes our Field Partners give out concurrent loans, allowing borrowers to take out one primary loan and a secondary "add-on" loan along with it. These "add-on" loans are typically smaller than the borrower's primary loan and serve a different purpose. Because Field Partners can now post loans as successive and concurrent loans, you will be able to track borrower progress over time and see the various ways a borrower is working with our Field Partners through funds from Kiva's lenders.
This is a Group Loan
In a group loan, each member of the group receives an individual loan but is part of a larger group of individuals. The group is there to provide support to the members and to provide a system of peer pressure, but groups may or may not be formally bound by a group guarantee. In cases where there is a group guarantee, members of the group are responsible for paying back the loans of their fellow group members in the case of delinquency or default.
Kiva's Field Partners typically feature one borrower from a group. The loan description, sector, and other attributes for a group loan profile are determined by the featured borrower's loan. The other members of the group are not required to use their loans for the same purpose.
Success!! The loan was 100% repaid
A portion of Banco Comunal En Dios Confiamos Group's $3,300 loan helped a member to have the working capital to buy a batch of pigs for sale and butchering of same.
8 months (Additional Information)
Monthly
Oct 22, 2012
Nov 20, 2012
Possible

Ended:

May 17, 2013