Check out some available loans that are similar to this one!
Nicaragua

Food

Funding via MiCredito

Nicaragua

Retail

Funding via MiCredito

Nicaragua

Retail

Funding via MiCredito
Yadira Sonia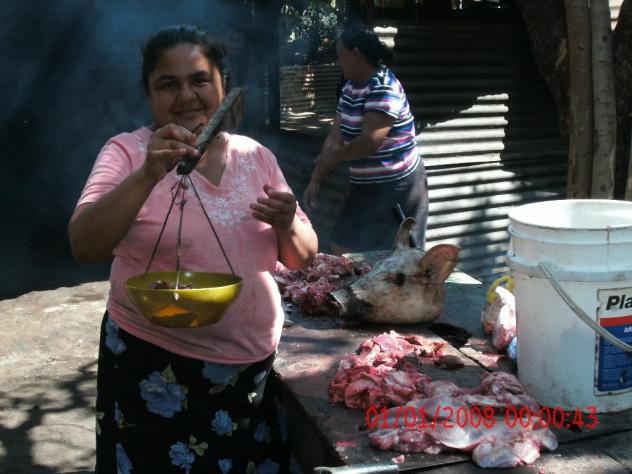 Update on Yadira Sonia
Yadira Sonia, 45, is married and has two children who are 12 and 6 years old and attending school. Yadira is from Chinandega Department, a place in the west of the country noted for being a very productive commercial zone. Yadira's activity is butchering pigs to sell pork for 'nacatamales' [Nicaraguan style tamales] which is one of the country's traditional dishes. She's been doing this activity for 14 years. It consists in going out to neighboring communities to buy the pigs that she subsequently butchers to sell nacatamales she makes herself; she sells them from place to place in various districts and to neighbors and she also sells them at home. She's requesting this financing to buy pigs to make nacatamales. Yadira Sonia is grateful for the help Kiva lenders provide for people of scarce resources from poor countries so they can have dignified ways of earning a living.
Translated from Spanish
View original language description ↓
Yadira Sonia de 45 anos de edad. Casada con dos hijos de 12, 6 anos, están estudiando. Yadira es originaria del departamento de Chinandega lugar que esta ubicado en la zona de occidente del país, lugar que se caracteriza por ser una zona comercial productiva. Yadira tiene por actividad económica la venta y destace de cerdo para la elaboración de nacatamales comida típica de del país. Tiene 14 anos de desempeñarse en dicha actividad. el negocio de la Sra. Consiste en salir a comprar el cerdos en las comunidades vecinas posteriormente los destaza para comercializa la venta del nacatamal elaborada por ella misma y los vende de forma ambulante en comarcas y repartos vecinos , y en su casa. El financiamiento lo esta solicitando para invertir en la compra de cerdos para la elaboración de los nacatamales. Yadira Sonia agradece la ayuda que los inversionistas kiva le brindan a personas de escasos recursos y países pobre para tener fuente de trabajo digno.
Previous Loan Details
Yadira Sonia is 44 years old. She makes a living in the pig business. She tells us that she learnt this business from her mother as she also carried out this activity. Later, Yadira also began in this activity. The idea came about because she needed to support her husband in the household bills. ... More from Yadira Sonia's previous loan »
Additional Information
Fundación Leon 2000
This loan is administered by Fundación Leon 2000. Fundación Leon 2000 began operations in 1993 as the first microfinance institution to serve the western part of Nicaragua, a country which continues to be one of the poorest in the western hemisphere. Fundación Leon 2000 works to further the development of micro, small, and medium enterprises through credit services and management, applying the best credit industry practices and technical expertise. Additionally, Fundación Leon manages several business and financial education programs in the community, specifically for young entrepreneurs and at-risk youth. Fundación Leon 2000's group of experienced and dedicated employees works in 7 offices in Leon, Chinandega, Chichigalpa, Somotillo, Jinotepe, El Sauce, and Nagarote and serves several thousand clients (the majority of whom are women).
Concurrent and Successive Loans
Our Field Partners often work with borrowers over a series of loans as the borrowers build credit, take out bigger loans, and expand their businesses. In order to make it easier for our Field Partners to post loans for borrowers who have been listed on Kiva before, we allow them to post successive and concurrent loans for their Kiva borrowers. This means that our Field Partners are able to post a borrower's second, third, etc., loan on Kiva without having to re-enter all of the borrower's information.
This borrower has been listed on Kiva before, so you'll see an updated loan description, as well as excerpts of the original descriptions from earlier loans. Most borrowers take out loans consecutively, meaning that they receive a second loan after having repaid the first. However, sometimes our Field Partners give out concurrent loans, allowing borrowers to take out one primary loan and a secondary "add-on" loan along with it. These "add-on" loans are typically smaller than the borrower's primary loan and serve a different purpose. Because Field Partners can now post loans as successive and concurrent loans, you will be able to track borrower progress over time and see the various ways a borrower is working with our Field Partners through funds from Kiva's lenders.
Success!! The loan was 100% repaid
A loan of $350 helped Yadira Sonia to buy pigs.
14 months (Additional Information)
Monthly
Oct 16, 2012
Nov 14, 2012
Possible

Ended:

Feb 17, 2014
This photo was used before for a previous loan for Yadira Sonia. It was first posted on Kiva on Jan, 2012.
Learn More