Check out some available loans that are similar to this one!
Cameroon

Retail

Funding via ACEP Cameroun

Togo

Clothing

Funding via Assilassimé Solidarité

Togo

Retail

Funding via Assilassimé Solidarité
Marie Ngwen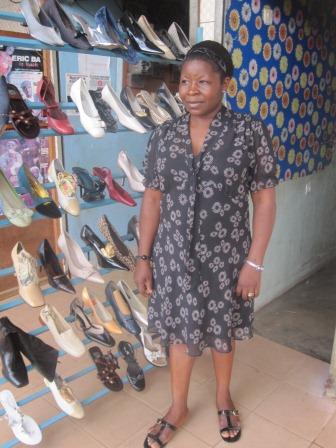 Marie Ngwen is married and has seven children. The family lives in a five bedroom apartment in Bamenda Mezam Division of the North West Region of Cameroon. She has faced so many challenges in life, including sickness of family members, death, inadequate money to educate her children and inadequate money to expand her business.She joined GHAPE in 2008 and has taken out and repaid her loans four times. She says if given the new loan as requested, she will buy shoes, inner wears for both men and women, men's socks and ladies' bags. She believes strongly that her business will succeed because she has longevity in the business, she has a good business site and she has regular customers who buy from her shop. She says with this boost in business activity, the community will have a supply of good quality dresses, shoes and handbags and also benefit from moderate prices.
With the profit from the loan, she will expand the business, educate her children, add to her savings in GHAPE and increase the standard of living in her house. She says GHAPE loans are preferable because of low interest rates, training on management before loan disbursement and convenient repayment intervals.
Additional Information
Important Information
About Grounded and Holistic Approach to People's Empowerment (GHAPE)
This loan is administered by Grounded and Holistic Approach to People's Empowerment (GHAPE), a non-profit non-government organization based in Bamenda, Cameroon. GHAPE takes a multi-faceted approach in working towards the empowerment of the poor and poverty alleviation. Every client is trained in business management, basic health, life skills, financial management, profits and losses, and family values. Clients are also required to contribute a small amount into a personal savings account; most clients save much more than the minimum requirement. GHAPE instills a sense of family and community among its clients and staff and has developed a strong bond of trust between the organization and its clients.
Success!! The loan was 100% repaid
A loan of $1,000 helped Marie Ngwen to buy shoes, inner wears, ladies' shoes, men's socks and ladies' bags.
25 months (Additional Information)
Monthly
Nov 20, 2012
Nov 7, 2012
Covered

Ended:

Aug 18, 2014