Check out some available loans that are similar to this one!
Congo (Dem. Rep.)

Food

Funding via Hekima, a partner of World Relief

Congo (Dem. Rep.)

Food

Funding via Hekima, a partner of World Relief

Rwanda

Food

Funding via VisionFund Rwanda
Mutiifu Group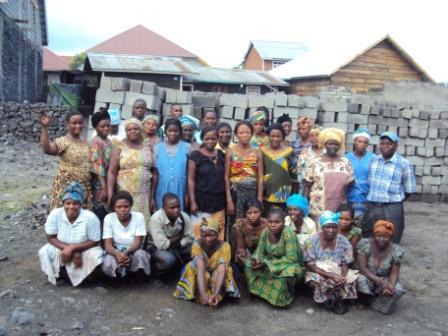 Kabuo is a young single woman aged 36, and the treasurer of the business group Tumusifu. She is an entrepreneur and the mother of four children who attend school. She is the owner of a small restaurant in a local suburb. She began her business in 2009 with the help of a loan from Hekima.

Kabuo has just completed 16 cycles in the micro loan program. Her current loan will be used to buy two sacks of beans, 30 kg of potatoes, 25 liters of oil, salt, and one sack of coal, among other supplies. It is Kabuo's dream to someday be able to purchase a plot of land for her children. Kabuo has said that she was previously able to live with a family member, but that she now pays for rent expenses. She is thankful to Hekima for the support it provides to women entrepreneurs who would otherwise not be able to start their own small businesses.
La cliente Kabuo est une jeune femme, trésorière du groupement d'affaire Tumusifu, entrepreneur, âgée de 36 ans et mère de 4 enfants qui vont a l'école. Cette cliente vit sans mari. Elle est sociétaire d'un petit restaurant de faubourg. Elle commença cette entreprise avec le crédit de Hekima, cela, vers les années 2009. Elle vient de réaliser 16 cycles dans le programme de microcrédit. Ce nouveau prêt va lui servir d'acheter 2 sacs de haricots, 30 kg de pommes de terre, 25 litres d'huile, du sel, 1 sac de braises, etc. Dans le futur, la cliente rêve acheter une parcelle pour ses enfants. Dit-elle dans l'ancien temps, elle était sous logée par un membre de sa famille. Alors, actuellement, elle se paye maintenant le loyer. Ainsi, elle remercie Hekima pour son soutien sans cesse aux petits entrepreneurs femmes non bancables.
Additional Information
Important Information
HEKIMA is a microfinance institution headquartered in Goma, Democratic Republic of the Congo (DRC), with branch offices in Goma and Bukavu. HEKIMA aims to contribute to the transformation of the economic, social, and spiritual lives of the economically active poor of the DRC. To this end, HEKIMA provides its clients with solidarity group loans to support income-generating activities. Despite ongoing instability and violence in its operating areas, HEKIMA continues to keep its doors open and provide credit and savings services for its over 90% female clientele.
This is a Group Loan
In a group loan, each member of the group receives an individual loan but is part of a larger group of individuals. The group is there to provide support to the members and to provide a system of peer pressure, but groups may or may not be formally bound by a group guarantee. In cases where there is a group guarantee, members of the group are responsible for paying back the loans of their fellow group members in the case of delinquency or default.
Kiva's Field Partners typically feature one borrower from a group. The loan description, sector, and other attributes for a group loan profile are determined by the featured borrower's loan. The other members of the group are not required to use their loans for the same purpose.
About Congo (Dem. Rep.)
$700

$13,512,975

US Dollars
Success!! The loan was 100% repaid
A portion of Mutiifu Group's $3,975 loan helped a member to buy supplies for her restaurant, including two sacks of beans, 30 kg of potatoes, 25 liters of oil, salt, and one sack of coal.
6 months (Additional Information)
Monthly
Oct 16, 2012
Nov 12, 2012
N/A

Ended:

Mar 15, 2013