Check out some available loans that are similar to this one!
Ecuador

Agriculture

Funding via VisionFund Ecuador

Ecuador

Agriculture

Funding via Cooperativa San Jose

Ecuador

Agriculture

Funding via Cooperativa San Jose
Luis Alfonso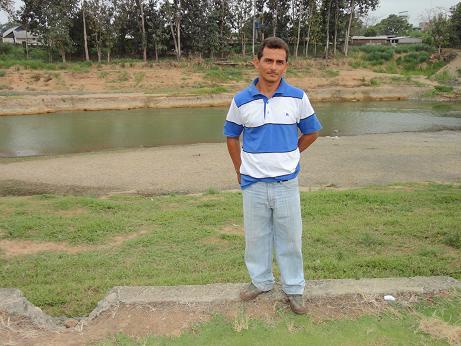 Luis Alfonso, 35, is single and has two children. He lives with his children and his mother in the city of Ventanas, Los Ríos Province. He's a member of the "16 de Agosto" communal bank located in Recinto Agua de Mocache belonging to Mocache Canton. They work in agriculture and animal husbandry.

Luis Alfonso works in agriculture and raises chickens and pigs. He requests the loan to buy seeds, insecticide, urea, liquid weed killer and animal feed. With help from the loan he will be able to buy what he needs for his crops. He'll make his purchases in the city of Ventanas.

His dream is to buy a house and a car. The challenge he faces is plant infestations. In his free time he likes to play Indor soccer.
Translated from Spanish
View original language description ↓
LUIS ALFONSO tiene 35 años de edad de estado civil soltera tiene dos hijos, vive con los hijos y la madre en la ciudad de Ventanas provincia de los ríos.

Es integrante de la VRC 16 DE AGOSTO, se encuentra ubicada en el Recinto Agua de Mocache, pertenece al Cantón Mocache se dedican a labores agrícolas y pecuarias.

LUIS ALFONSO se dedica a la agricultura y a la crianza de pollos, cerdos. Solicita el crédito para comprar semillas, insecticidas, urea, liquido para la maleza, polbillo.

Con la ayuda del crédito podrá comprar lo que le hace falta para los cultivos. Las compras las hará en la ciudad de Ventanas.

El sueño es comprarse una casa y un carro. Los desafíos a los que se enfrenta son las plagas en las plantas.
En el tiempo libre le gusta jugar indor.

Additional Information
About Cooperativa San Jose
This loan is administered by Cooperativa San Jose, a 45,000-member credit union located high in the Andes Mountains of Ecuador's poorest province, Bolivar. They offer a unique loan called "Ventanillas Rurales" [Window to the Countryside], which uses a group guarantee but is an individual loan with a savings component, mostly to rural borrowers. Due to low savings rates and a history of macroeconomic instability, many traditional loans in Ecuador demand interest rates that are prohibitively high for some borrowers. There is also a high incidence of extortionist black-market lending in Ecuador. CSJ helps mitigate these problems by providing a less onerous and more appropriate option. Join CSJ's Lending Team!
Success!! The loan was 100% repaid
A loan of $600 helped Luis Alfonso to buy seeds, insecticide, urea, liquid weed killer and animal feed.
14 months (Additional Information)
At end of term
Sep 27, 2012
Oct 16, 2012
N/A

Ended:

Oct 24, 2013