Check out some available loans that are similar to this one!
Indonesia

Services

Funding via PT Rekan Usaha Mikro Anda (Ruma)

Indonesia

Food

Funding via Tanaoba Lais Manekat Foundation (TLM)

Indonesia

Services

Funding via Tanaoba Lais Manekat Foundation (TLM)
Dwi Rahayu 2 Group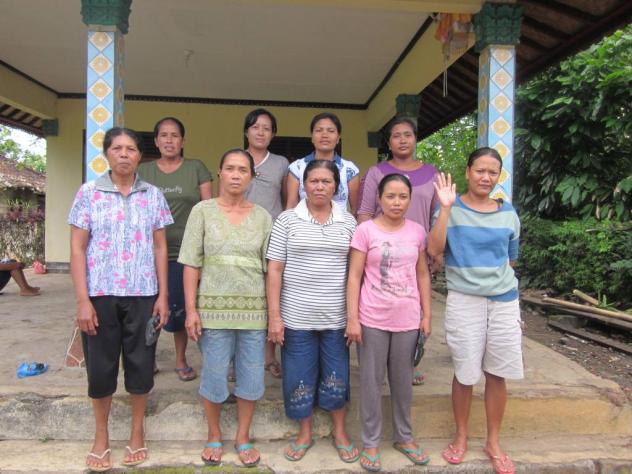 The Dwi Rahayu 2 group was formed by nine women who have similar purposes and businesses as pig breeders. They got the information about pig breeding from the other group in their village, Dwi Rahayu 1. Actually, they already have pigs at home, but they want to improve their businesses by joining MUK. Ni Wayan, head of the group, has three children and they all are still in school. Her husband works as a farmer who planted banana, coconut, cacao and other items. Ni Wayan will use the loan to purchase superior piglets. Now the price is 450,000 IDR per piglet. Ni Wayan has a big dream of becoming a succesful pig breeder so she can help her husband with their family's living costs.
Additional Information
About Koperasi Mitra Usaha Kecil (MUK)
This loan is serviced by Koperasi Mitra Usaha Kecil (MUK), a microfinance cooperative headquartered in West Bali, Indonesia. MUK's mission is to provide chronically poor people in Bali with opportunities to improve their lives, while raising social awareness of economic and environmental issues.
Most MUK clients live in rural settings on less than $1.25 per day. MUK's financial products are targeted to clients' productive activities including small businesses, farming, and livestock rearing. MUK supports clients with training in household budgeting, livestock rearing, and small business management.
MUK provides services to clients of all races and religions. For more information about MUK, please visit its partner page. Also, consider joining MUK's Kiva lending team, Friends of Mitra Usaha Kecil.
This is a Group Loan
In a group loan, each member of the group receives an individual loan but is part of a larger group of individuals. The group is there to provide support to the members and to provide a system of peer pressure, but groups may or may not be formally bound by a group guarantee. In cases where there is a group guarantee, members of the group are responsible for paying back the loans of their fellow group members in the case of delinquency or default.
Kiva's Field Partners typically feature one borrower from a group. The loan description, sector, and other attributes for a group loan profile are determined by the featured borrower's loan. The other members of the group are not required to use their loans for the same purpose.
Success!! The loan was 100% repaid
A portion of Dwi Rahayu 2 Group's $3,350 loan helped a member to purchase superior piglets.
8 months (Additional Information)
At end of term
Jun 12, 2012
Jun 15, 2012
Possible

Ended:

Jan 15, 2013