Check out other loans that are currently fundraising!
El Salvador

Clothing

Funding via PADECOMSM

Bolivia

Food

Funding via IMPRO

Philippines

Agriculture

Funding via Community Economic Ventures, Inc. (CEVI), a partner of VisionFund International
Rosa María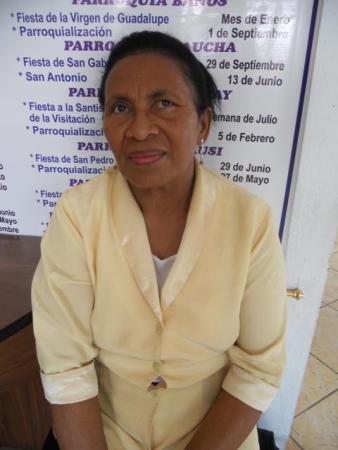 Rosa is a member of the "Renacer Uncovia" communal bank. She lives in Cuenca's outskirts, a city noted for the beauty of its historic city center which blends the colonial with the modern and which led to it's being designated a Cultural Heritage of Humanity in December, 1999. Its varied cuisine enchants the palates of locals and foreigners alike and its residents are kind, polite, warmhearted people.

Rosa is 61-years-old, married and has 8 children. Seven of them are married and live on their own. Her daughter is single and helps out economically. Her husband is a merchant. They do not own a house; they rent.

Rosa is originally from Esmeraldas Province but came to the city because a daughter invited her and she liked the city very much. She sells food from place to place, an activity she's been in for ten years. She works Sunday to Sunday with no fixed schedule.

This is the sixth loan she's taken with the communal bank and will use this new loan to buy a refrigerator she needs very much for her business. Her goal is to own a house in the city of Cuenca.
Translated from Spanish
View original language description ↓
La Señora. Rosa es socia del banco comunal Renacer Uncovia, vive por los alrededores de la ciudad de Cuenca, esta ciudad es reconocida por su belleza arquitectónica la misma que le da el nombre de Patrimonio Cultural de la Humanidad, cuenta con varios lugares para visitar y la belleza de la naturaleza, tiene una gran variedad en la gastronomía la que cautiva a propios y visitantes, su gente es amable, gentil, aun mantienen la cultura y tradiciones de sus pueblos.

Doña Rosa tiene 61 años, es casada y en su unión conyugal ha concebido 8 hijos, 7 de ellos son casados y viven independientes, su hija soltera trabaja y le ayuda económicamente. Su esposo se dedica al comercio, no tienen casa propia por lo que viven arrendando.

La Señora Rosa es oriunda de la provincia de Esmeraldas, llego a la ciudad porque una de sus hijas le invito y a le gusto mucho la ciudad, ella se dedica a la venta de comida ambulantemente, actividad que la desempeña hace 10 años y labora de domingo a domingo sin un horario fijo.

Este es el sexto ciclo que realiza en el banco comunal y su nuevo crédito lo va a invertir en la compra de una refrigeradora que le hace falta para su negocio.

Su sueño es tener una casa propia en la ciudad de Cuenca.

Success!! The loan was 100% repaid
A loan of $1,300 helped Rosa María to buy a refrigerator.
8 months (Additional Information)
Monthly
May 11, 2012
Jun 2, 2012
N/A

Ended:

Dec 15, 2012