Check out some available loans that are similar to this one!
Mexico

Housing

Funding via Kubo.financiero

Mexico

Housing

Funding via Kubo.financiero

Mexico

Health

Funding via Alivio Capital
El Mirador Group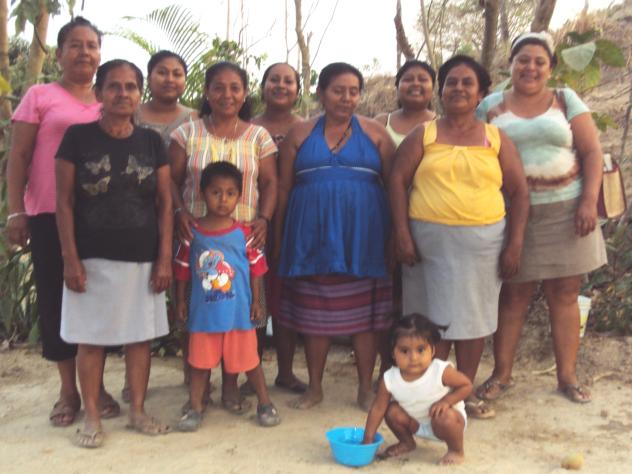 This group is called "El Mirador," and is made up of ten humble indigenous working women, dedicated to different businesses.

They are originally from Pinotepa Nacional, Oaxaca and some of their art forms are wooden masks, machetes, wool knitting, and beaded blouses. There are a number of beaches there, the main one being the beach of Corralero.

Maria is one of the group's members. She is 54 years old and is known for wanting to improve her and her family's lives.

Ms. Mari, as she is known by her fellow group members, has been selling American clothing for a year and groceries for 14 months. What she enjoys most about her business is providing good customer service and above all giving them a nice smile.

Ms. Mari says that she likes living life very much and always being happy and working very much to grow her two small businesses.

She is happy because her businesses provide good earnings and in this way she can grow them, each day buying and selling her merchandise.

One of the things she doesn't like about her grocery store is that sometimes she goes out to sell in the street and the store remains closed and she loses customers.

One of her dreams is to have a location where she can show her merchandise and serve people more comfortably.

She requested this loan to buy more American clothing, such as skirts, blouses, dresses, Shores pants, and shirts.

She is grateful to the foundation for supporting hardworking people with a desire to succeed.

The other members are:
Hilaria – sells Mexican snacks
Maria Anita – sells bread
Rosalia – sells Mexican snacks
Efigenia– sells Mexican snacks
Eneida – sells tacos
Rosalia – sells perfumes
Teresa – sells clothing
Guillermina Elena – catalog salses
Ingrid Arizlendi – sells perfumes

They are thankful to the Vision Fund for helping indigenous people with a desire to succeed.
Translated from Spanish
View original language description ↓
Este grupo se llama El mirador, está conformado por diez mujeres trabajadoras humildes e indígenas que se dedican a diferentes actividades económicas.
Son originarias de Pinotepa Nacional, Oaxaca una de sus artesanías son las mascaras de madera, machetes, bordados de lana y blusas de chaquira.Cuenta con diferentes playas, la principal la playa de corralero.
Una de las integrantes de este grupo es la señora Maria de cincuenta y cuatro años de edad se caracteriza por sus deseos de mejorar su vida y la de su familia.
Doña Mari como mejor la conocen sus compañeras de grupo se dedica a la venta de ropa americana desde hace un año y a la venta de mercancía de abarrotes desde hace catorce años, lo que mas le gusta de su negocio es atender bien a las personas y sobre todo regalarles una linda sonrisa.
Doña Mari dice que le gusta mucho vivir la vida y siempre estar de ánimos y trabajar mucho para engrandecer sus dos pequeños negocios.
Esta feliz porque sus negocios le dejan buenas ganancias y así puede engrandecerlos cada día mas conforme va vendido va comprando su mercancía.
Una de las cosas que no le gusta de su tienda de abarrotes es que ocasiones sale a vender a las colonias vecinas y se queda cerrado y pierde clientes.
Uno de sus sueños es tener un local donde pueda exhibir su mercancía y atender con más comodidad a las personas.
Pidió el crédito para la compra de mas ropa americana para la venta como es: faldas, blusas, vestidos, shores pantalones y camisas.
Le da las gracias a fundacion por apoyar a las personas trabajadoras con deseos de superación.
Las otras integrantes del grupo son:
Hilaria- se dedica a la venta de antojitos mexicanos.
Maria Anita- se dedica a la venta de pan.
Rosalia- se dedica a la venta de antojitos mexicanos.
Efigenia- se dedica a la venta de antojitos mexicanos.
Eneida- se dedica a la venta de tacos.
Rosalia- se dedica a la venta de perfumes.
Teresa- se dedica a la venta de ropa.
Guillermina Elena- se dedica a la venta de catálogos.
Ingrid Arizlendi- se dedica a la venta de perfumes.

Le dan las gracias a Vision Fund por ayudar a la gente de pueblos indígenas con deseos de superación.

Additional Information
This is a Group Loan
In a group loan, each member of the group receives an individual loan but is part of a larger group of individuals. The group is there to provide support to the members and to provide a system of peer pressure, but groups may or may not be formally bound by a group guarantee. In cases where there is a group guarantee, members of the group are responsible for paying back the loans of their fellow group members in the case of delinquency or default.
Kiva's Field Partners typically feature one borrower from a group. The loan description, sector, and other attributes for a group loan profile are determined by the featured borrower's loan. The other members of the group are not required to use their loans for the same purpose.
Success!! The loan was 100% repaid
A portion of El Mirador Group's $5,100 loan helped a member to buy clothing for resale.
7 months (Additional Information)
Monthly
May 8, 2012
May 25, 2012
Possible

Ended:

Dec 15, 2012