Check out some available loans that are similar to this one!
Mexico

Retail

Funding via VisionFund Mexico

Mexico

Construction

Funding via Habitat for Humanity Mexico

Mexico

Construction

Funding via Habitat for Humanity Mexico
Nueva Vida Group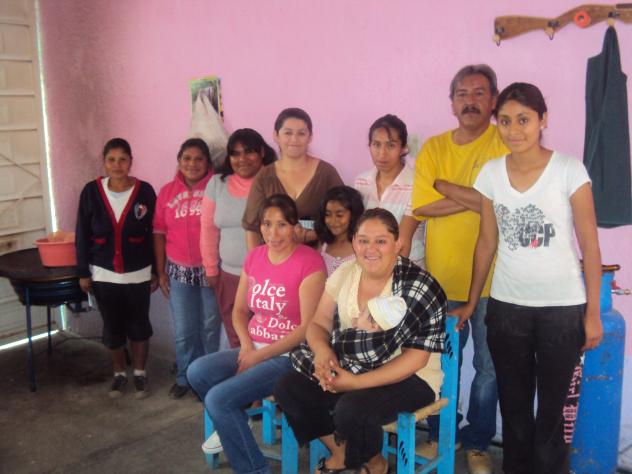 Marivel is 35 years old and belongs to the group Nueva Vida. She says they gave their group that name (New Life in English) because thanks to the loans they felt their lives would change. The loans have helped them all to improve their businesses and therefore their life conditions.
Mary, as she is known familiarly, prepares hand made corn tortillas. She says she has been in this business approximately over four years and that she started the business to contribute to her home and help her husband with their children's education. She is married to José Juan and they have two daughters, one is in elementary school and the youngest is in preeschool.
She is requesting a loan to purchase corn, lime, firewood, salt, and paper to wrap the tortillas. She says she makes them twice daily. In the mornings she starts making them at 8 am for for lunch and in the afternoon at 12 for dinner time. She says her customers are locals, and she sells her tortillas at home, where she has a stand with her comal, where she makes the tortillas. She says she really enjoys what she does because people tell her she makes very pretty and very tasty tortillas.
Mary's goal is to be able to hire a girl to help her prepare the tortillas, since sometimes she gets very large orders of tortillas, especially when there are events in her community such as parties. She says that, thanks to the loans she has received through the finance company, she has grown as a business woman, because she started out making few tortillas and now she gets large orders.
The other members in her group are Juana, Roció, Antonia, Alejandro, América, Magali, María Catalina, Noemí y María Lorena. They will invest their loans in a grocery store, making tortillas, selling seasonal fruit and legumes, raising and selling chickens, in a dairy, in a public service group, catalogue cosmetics, quilts and sheets, staples to make tamales, selling women's clothing, and selling sweets.
Marivel tiene 35 años de edad y es parte del grupo Nueva Vida, dice que le pusieron ese nombre al grupo porque gracias a los créditos ellas pensaron que su vida iba a cambiar ya que los créditos les ayudan a todos ellos a mejorar sus negocios y asi sus condiciones de vida. Mary como de cariño le dicen se dedica a la elaboración de tortillas de maíz a mano, dice que tiene con este negocio aproximadamente más de 4 años y dice que comenzó el negocio para aportar algo a su casa y ayudar a su esposo con la educación de sus hijos, ella está casada con José Juan y tienen dos niñas una estudiante de primaria y la menor estudiante de preescolar. Ella está pidiendo un crédito para la compra de maíz, cal, leña, sal, papel para envolver las tortillas. Dice que a diario hace dos veces al día por las mañanas empieza hacer a las 8 de la mañana para el almuerzo y en la tarde a las 12 para la hora de la comida, dice que sus clientes son gente de su localidad y vende sus tortillas en su casa donde tiene un puesto con su comal donde hace las tortillas. Dice que le gusta mucho lo que hace porque la gente le dice que hace muy bonitas las tortillas y muy sabrosas. La meta de Mary es poder contratar una muchacha para que le ayude a elaborar las tortillas ya que abeces le hacen pedidos muy grandes de tortilla y más que nada cuando hay eventos en su comunidad como fiestas. Ella dice que gracias a los créditos que ha recibido por parte de la financiera ella ha crecido como comerciante ya que empezó hacer pocas tortillas y ahora le hace pedidos grandes. Los otros integrantes de su grupo se llaman Juana, Roció, Antonia, Alejandro, América, Magali, María Catalina, Noemí y María Lorena los cuales invertirán sus créditos en una tienda de abarrotes, elaboración de tortillas, venta de frutas y legumbres de temporada, cría y venta de pollos, en una lechería, en un colectivo para servicio público, cosméticos por catalogo, colchas y sabanas, insumos para hacer tamales, venta de ropa para dama, y dulces para su venta.



Additional Information
This is a Group Loan
In a group loan, each member of the group receives an individual loan but is part of a larger group of individuals. The group is there to provide support to the members and to provide a system of peer pressure, but groups may or may not be formally bound by a group guarantee. In cases where there is a group guarantee, members of the group are responsible for paying back the loans of their fellow group members in the case of delinquency or default.
Kiva's Field Partners typically feature one borrower from a group. The loan description, sector, and other attributes for a group loan profile are determined by the featured borrower's loan. The other members of the group are not required to use their loans for the same purpose.
Success!! The loan was 100% repaid
A portion of Nueva Vida Group's $4,175 loan helped a member to make hand made tortillas: she will buy corn, lime, firewood, etc.
6 months (Additional Information)
Monthly
Mar 14, 2012
Apr 10, 2012
Possible

Ended:

Aug 31, 2012