Check out some available loans that are similar to this one!
Ecuador

Retail

Funding via Cooperativa de Ahorro y Credito Mujeres Unidas (CACMU)

Ecuador

Retail

Funding via Cooperativa de Ahorro y Credito Mujeres Unidas (CACMU)

Ecuador

Retail

Funding via VisionFund Ecuador
Johana María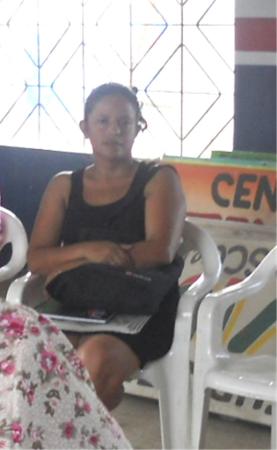 Members of the communal bank 'Dulce Amistad' meet every fifteen days in the canton of Rocafuerte. This place is known for the delicious sweets its locals, who are known by the whole country to be warm, friendly, hard working people, prepare.

Here we met Johana who is 30 years old. She is married and from this relationship has a 12 year old son who studies at school. Her husband is a salesman.

Several years ago she took a beauty course at a local academy. She has a beauty salon where she carries out various types of work such as: hair dying, men's haircuts, hair painting and other jobs. She works from 8:00 am until 21:00 pm and sometimes later if her customers need her services. She also sells all sorts of clothes in her place of business as she has glass cabinets where she can display her items of clothing. She sells to her customers on credit and collect the payment every 8 days. She has worked in her beauty salon for more than 17 years and things have gone well for her.

This loan will be used to buy hair dyes, perms and all sorts of clothes to sell. She has been in this communal bank for more than five loan cycles and she likes it because the bank has helped her to increase her business.

Her dreams are to continue progressing and extending her business.
En el cantón Rocafuerte se reúnen cada quince días las socias del Banco Comunal Dulce Amistad. Este lugar se lo conoce por sus deliciosos dulces que preparan los lugareños que son reconocidos en todo en todo el país y por la calidez de su gente amable trabajadora.

En este lugar conocimos a la señora Johana, tiene 30 años de edad, está casada y de esta relación tienen un hijo de 12 años de edad que estudia en colegio. Su esposo es comerciante.

Ella hace varios años aprendió belleza en una academia de la localidad. Tiene un salón de belleza en el cual realiza diversos tipos de trabajo como: tinturados, cortes de cabellos, pintado de uñas y otros trabajos. Trabaja desde las 8h00 hasta las 21h00 y a veces hasta más tarde si sus clientes requieren de sus servicios. También vende ropa de todo tipo en su local ya que allí tiene unas vitrinas para mostrar sus prendas, las mismas que les da a sus clientes a crédito y que cobra cada 8 días, lleva con su salón de belleza más de 17 años y le ha ido muy bien.

Este crédito lo va a emplear para comprar tintes, permanentes y ropa de todo tipo para sus ventas. Está en el Banco Comunal desde hace cinco ciclos y le gusta porque el banco le ha ayudado para aumentar su negocio.

Sus sueños son seguir adelante y aumentar su negocio.



Success!! The loan was 100% repaid
A loan of $675 helped Johana María to buy hair dyes, perms and clothes.
6 months (Additional Information)
Monthly
Mar 8, 2012
Mar 22, 2012
N/A

Ended:

Aug 15, 2012