Check out some available loans that are similar to this one!
Bolivia

Retail

Funding via Fundación Pro Mujer

Bolivia

Retail

Funding via IMPRO

Bolivia

Retail

Funding via Emprender
Mañaneras Group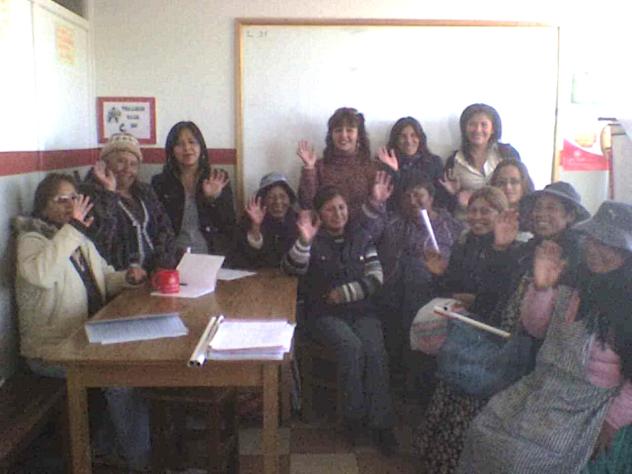 The communal bank "Mañaneras" or "Morning women" will begin it's 11th cycle with Kiva field partner Pro Mujer as part of the Centro Focal (Focal center) of the village Exaltación. This bank is made up of 8 people and has a governing board. The head of the board is Mrs. Martha. The businesses that the communal bank members carry forward are varied, and among them we have: selling vegetables, selling dishes, running a grocery store, selling table cloths, selling coffee, brick work, selling undergarments, running another grocery store, running a grocer's shop, selling clothes, selling various articles, and selling DVD's.

Mrs. Martha indicates that six months ago the group was formed and since that time until now she has been selling DVD's, something she has been doing for many years. The loan requested is to increase merchandise (to purchase DVD's) that she buys in the city of El Alto, and then later to sell them in her regular stall. This form of work allows her to support her family since she is married and has six children.

When she is asked what she likes about Pro Mujer, she responds that she likes the meetings.

In the photograph Mr. Abel is not pictured for personal reasons.
Translated from Spanish
View original language description ↓
La A.C. "MAÑANERAS" iniciará el decimo primer ciclo en Pro Mujer, como parte del Centro Focal de de Villa Exaltación. Está compuesta por ocho integrantes y cuentan con una mesa directiva a la cabeza de la misma se encuentra la señora Martha. Los negocios que las integrantes de la asociación comunal llevan adelante son variados entre ellos tenemos: venta de verduras, venta de vajillas, tienda de abarrotes, venta de mantas, venta de café, ladrillera, venta de calzados, tienda de abarrotes, venta de cosméticos, almacén, venta de ropa, venta de artículos varios, venta de DVD's.

La señora Martha, indica que hace seis meses que conforma una asociación comunal desde y que en la actualidad ella cuenta con un negocio de venta de DVD's, que viene trabajando hace años. El crédito de este ciclo es para ampliación de su mercadería (compra de DVD's) que adquiere de la ciudad de El Alto y posteriormente lo comercializará en su puesto fijo. Esta forma de trabajo le permite apoyar a su familia pues ella es casada y tiene seis hijos.

Cuando se le consulta qué le gusta de Pro Mujer, ella responde que le gusta las reuniones.

En la fotografía no se encuentra el señor Abel, por razones personales.
Additional Information
This is a Group Loan
In a group loan, each member of the group receives an individual loan but is part of a larger group of individuals. The group is there to provide support to the members and to provide a system of peer pressure, but groups may or may not be formally bound by a group guarantee. In cases where there is a group guarantee, members of the group are responsible for paying back the loans of their fellow group members in the case of delinquency or default.
Kiva's Field Partners typically feature one borrower from a group. The loan description, sector, and other attributes for a group loan profile are determined by the featured borrower's loan. The other members of the group are not required to use their loans for the same purpose.
Success!! The loan was 100% repaid
A portion of Mañaneras Group's $5,825 loan helped a member to purchase DVD's.
8 months (Additional Information)
Monthly
Feb 27, 2012
Mar 22, 2012
Covered

Ended:

Sep 15, 2012