Check out some available loans that are similar to this one!
Rwanda

Agriculture

Funding via VisionFund Rwanda

Rwanda

Retail

Funding via VisionFund Rwanda

Rwanda

Food

Funding via VisionFund Rwanda
Abaticumugambi/ Rhh Group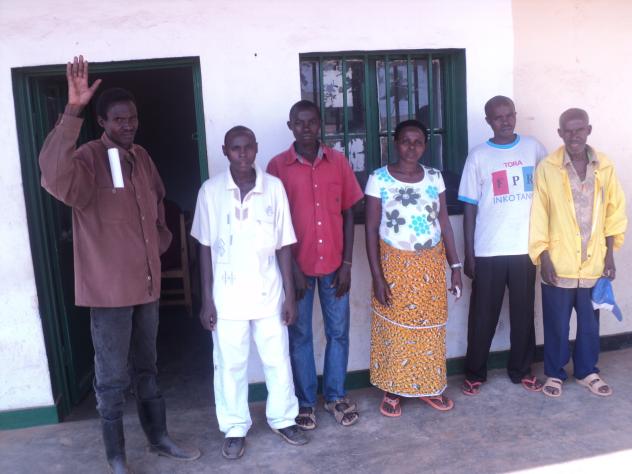 Venuste is a member of the Abaticumugambi group. He was born in Rwanda and is 45 years old. He is married and a father of three children ranging from one to nine years old, one of whom attends school. He himself completed four years of elementary school.
Vénusté is a rice farmer. This is his first loan cycle with ACB. He plans on using his loan to purchase fertilizers (NPK, urea) to use on his rice fields and pay workers.
His business growth strategy is to increase his farming land by using irrigation systems, with the ultimate goal of increasing production. In the next few years, Venuste would like to become a large-scale rice producer, pay tuition fees for his children and pay his family's medical expenses.
Translated from French
View original language description ↓
Venuste fait partie du groupe Abaticumugambi. Il est né au Rwanda et a 45 ans,il est marié et il a 3 enfants de 1 à 9 ans, dont 1 scolarisé. Son niveau d'éducation est 4 ans de primaire.

Venuste est agriculteur du riz. C'est son premier cycle de prêt avec ACB. Il va utiliser son crédit pour acheter des fertilisants(NPK,Urée), utiliser dans les champs du riz et payer la main d'œuvre.

Sa stratégie pour la croissance de son business est d'accroitre des champs en utilisant le système d'irrigation en vue d'augmenter la production. Dans les prochaines années, Venuste voudrait devenir une grande agriculteur du riz , payer les frais d'études pour ses enfants et payer les frais médicaux pour sa famille.

Additional Information
About Amasezerano Community Banking, S.A.
Amasezerano Community Banking, S.A., is a for-profit microfinance institution founded in 2005 by the Rwandan NGO African Evangelist Enterprises-Rwanda and 61 individual shareholders, and has been a Kiva partner since June 2010. The mission of Amasezerano Community Bank (ACB) is to have a holistic, positive impact on the lives of poor people by providing quality financial services. ACB's client base is composed primarily of farmers, small-business owners, women entrepreneurs and low-wage private-sector salaried workers. Credit offerings are tailored to meet client needs, and include group solidarity loans, agricultural loans, loans for women entrepreneurs, small-business loans, and loans for salaried workers. ACB also offers mobile money transfers, currency exchange and life insurance services to its borrowers.
This is a Group Loan
In a group loan, each member of the group receives an individual loan but is part of a larger group of individuals. The group is there to provide support to the members and to provide a system of peer pressure, but groups may or may not be formally bound by a group guarantee. In cases where there is a group guarantee, members of the group are responsible for paying back the loans of their fellow group members in the case of delinquency or default.
Kiva's Field Partners typically feature one borrower from a group. The loan description, sector, and other attributes for a group loan profile are determined by the featured borrower's loan. The other members of the group are not required to use their loans for the same purpose.
Success!! The loan was 100% repaid
A portion of Abaticumugambi/ Rhh Group's $1,025 loan helped a member to purchase fertilizers (NPK, urea) to use on his rice fields and to pay workers.
8 months (Additional Information)
At end of term
Aug 22, 2011
Aug 31, 2011
Possible

Ended:

Mar 15, 2012