Check out some available loans that are similar to this one!
Kipekera Group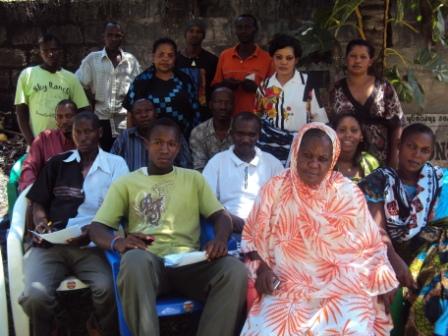 M. M. is in his early twenties and is single with no children. He has owned a charcoal business for one year. He works from 6.00am to 6.00pm daily and is able to earn a good monthly profit.

This will be M.'s second loan from Tujijenge Tanzania. He used his first loan to increase his charcoal stock and has paid back this loan successfully. He hopes to obtain a new loan with which he will use to open a fruit and vegetable business. His dream is to buy land on which to build his own home.

M. will share his loan with his loan group K., which has a total of 18 members. The members of the group will help each other to pay back the loan.

In the photo, M. is in front wearing a green T-shirt.
Additional Information
About Tujijenge Tanzania
This loan is administered by Tujijenge Tanzania, which was founded in 2006. It has operations in Dar es Salaam, the coastal region, and the Lake Victoria region. The organization aims to reach out to micro entrepreneurs and provide them with financial and social intermediation services because capital is one of the major barriers to development and success for micro-enterprise initiatives in Tanzania.

For more information on Tujijenge Tanzania, please visit its partner page, or join its lending team.
This is a Group Loan
In a group loan, each member of the group receives an individual loan but is part of a larger group of individuals. The group is there to provide support to the members and to provide a system of peer pressure, but groups may or may not be formally bound by a group guarantee. In cases where there is a group guarantee, members of the group are responsible for paying back the loans of their fellow group members in the case of delinquency or default.
Kiva's Field Partners typically feature one borrower from a group. The loan description, sector, and other attributes for a group loan profile are determined by the featured borrower's loan. The other members of the group are not required to use their loans for the same purpose.
Success!! The loan was 100% repaid
A portion of Kipekera Group's $4,875 loan helped a member to open a fruit and vegetable business.
6 months (Additional Information)
Monthly
Dec 14, 2010
Jan 1, 2011
Possible

Ended:

May 15, 2011